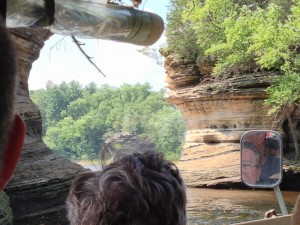 The trailer was ready to go by the night of the 3rd. Refrigerator cold, food and clothes loaded and truck fueled. We planned to get up and get an early start to Wisconsin Dells on the morning of July 4th. So much for plans. We woke up that morning to the sump pump battery alarm wailing.
In the basement, I reset the alarm, checked the water level in the battery and check the cables for tightness. The alarm started up again right away. I tripped the float switch on the backup pump and just got some clicks but no pumping. The lights on the controller were telling me that the battery needed to be replaced but I just did that in November. Now I wasn't sure if the problem was with the battery, the pump or the controller. In the interest of saving time, and because it was easiest to replace, Georgia and I drove to Home Depot to get a new battery. On the way there, Georgia did some research online and found that a few people were reporting short battery life unless the battery was raised well above a concert floor. Ours was on a thin board so maybe that was what caused the problem.
Home depot had plenty of batteries but they were out of the acid packs needed to fill them. We had the associate check other stores and found one nearby that had plenty in stock. So, back in the car and the delay got longer.
We finally had the battery and the acid and were back home. By now it was after 11AM – so much for an early start. I filled the battery and hooked it up. Now the alarm was off and when I triggered the pump it ran fine. Looks like the battery was the problem. I raised this one off the floor with a plastic crate so, hopefully, it will last longer.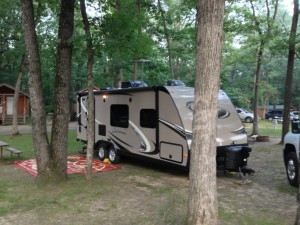 Since it was now after 1 PM, we had a quick lunch then hitched up and got on the road about 2 o'clock. Better late than never. The drive up was pretty easy, less traffic than we expected, and we got to Fox Hill RV Park just before 5 PM. By the time we checked in and got setup in our nicely wooded space, we were ready to take some time off. We drove the short distance to Ho Chunk Casino and had dinner there.
On Friday we made a stop at a quilt shop that Georgia had wanted to visit and then, in our continuing effort to find things new things to do in the Dells, we decided to take a jet boat ride. When we called to reserve tickets at Captain Ron's Jet Boats, they offered us a good price on a package deal that included a duck ride too. We took the deal and drove to the location.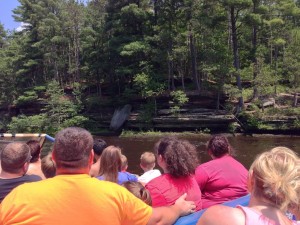 It was a little after 11 AM when we got there and we were scheduled for the noon tour. We grabbed lunch at the snack bar and then got onto a shuttle bus that would take us to the jet boat dock. The boat ride was a mix of slow sightseeing and very fast runs up and down the river with thrilling spins and nose dives. We ended up soaked but that was just fine on this very warm day. I can recommend jet boats as a fun way to see the Upper Dells.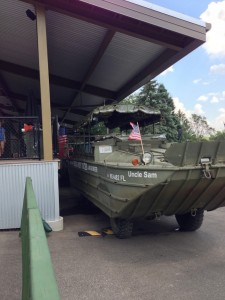 Once we got to shore, another shuttle took us back to the staging area and we boarded a duck for the second half of our tour package. Georgia and I have ridden duck before including several times in The Dells but, we have always ridden the Original Ducks there. This was our first time on the Army Ducks.  The tours are similar but I prefer the Original Ducks. They have been in The Dells since 1946 and own or have exclusive rights to miles of off road trails. The Army Ducks are relative newcomers and much of their route is on paved roads. Personally I prefer the mud, dirt and forests of the original "Green Ducks." Still, it was a fun tour. If you visit Wisconsin Dells, you have to ride a duck.
We spent the evening at the campground where we cooked out and just relaxed.
Saturday was our day to do some unwinding. With no particular plans, we started out with a drive to Pardeeville, Wisconsin to visit Marcellon Cemetery. Genealogy is another of my hobbies and some of my great-great grandparents are buried there. They are James and Mary (Vickers)(Chandler) Moore, and Seth and Luthera (Litchfield) (Wing) Wing.
That last one is not a misprint. Luthera Litchfield married Stephen Brown Wing about 1857. They had three children. Stephen died in the Civil War leaving Luthera a widow with three young children. With so many men killed in that war, it was common for their male relatives to marry the widows to provide for them and their children. In 1866 Luthera married Stephen's nephew Seth Burgess Wing. Seth and Luthera had another three children of their own – including my great grandmother Minnie Bell Wing who married George Moore – son of James and Mary. The way I figure it, since Seth was married to his aunt, his children were also his cousins and Seth was his own uncle!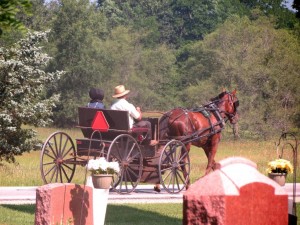 While I was walking through the cemetery, I thought about how easy it was for us to get there and how different it must have been for my ancestors who had to travel by horse and buggy. As I was thinking that, I heard the clip-clop of horses hooves and saw  a horse drawn wagon pass by. A few minutes later an enclosed buggy came by. Sorry, no ghost story here – just a coincidence. Wisconsin has a significant Amish population scatted in pockets around the state and Pardeeville is one of those areas. Horse drawn conveyances are not uncommon there. It did give me a feel for what it was like in late the 1800's though.
I got some new photos of the family graves before we drove back to The Dells for a little shopping and lunch at Little Philly's Bistro. From there we went back to the campground for a couple hours and then over to Ho Chunk for the buffet dinner and some slot machine play.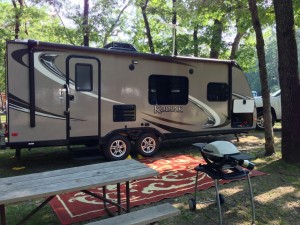 We took our time getting ready to leave on Sunday but still made it out ahead of most of the traffic. The drive
home was uneventful with only a couple traffic backups before we got off the freeway. When we were close to home, the radio was reporting very heavy stop-and-go traffic coming into Illinois from Wisconsin. That's pretty common on weekends and especially so on holiday weekends so I was glad we avoided  most of it.
This was a fun and relaxing long weekend away and we enjoyed it very much. The next planned trip is to AirVenture the end of July. We will be there the whole week of the event.