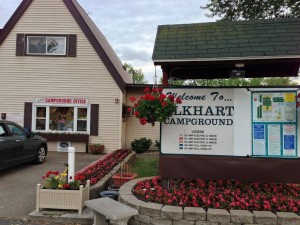 The long Memorial Day weekend gave us the opportunity to take the travel trailer on a road trip. I added a vacation day on Tuesday to make it an even longer weekend.
We hitched up on Saturday and towed to Elkhart, Indiana, in Amish country. The rural areas here are dotted with Amish farms and, in both the country and in the towns, cars share the road with horse drawn buggies. Many of the Amish are employed in the numerous RV factories that are a big part the local economy.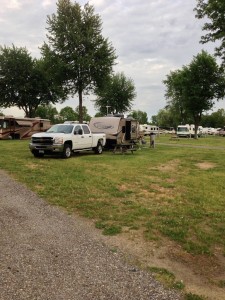 Our home for the long weekend was Elkhart Campground where we arrived early Saturday afternoon. The campground is well maintained with level sites and easy access from the Indiana Toll Road. It was a convenient location for our visit.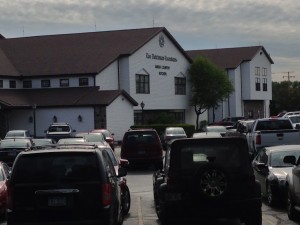 That first night, we went to Das Dutchman Essenhaus in Middlebury for dinner and shopping. We had a choice of menu dining, family style or buffet – we chose the buffet style and it was very good.
After dinner we shopped for specialty foods in the main building and then went to the Village Shops for more general  shopping. Later we drove back to the campground for a quite night.

Almost every business in Shipshewawa and Middlebury is closed on Sunday so Georgia and I drove to White Pigeon, Michigan to check out a huge RV surplus store called Bontragers. They have just about anything you could ever want for your RV. We picked up a shelf and folding brackets we plan to use to extend our counter space in the trailer.
We went back to the campground early and enjoyed the rest of the day there. I grilled a couple steaks and we just relaxed a little.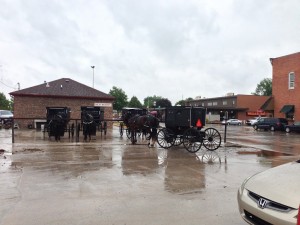 We had intended to go to the outdoor Shipshewana flea market on Monday but we woke up to a steady rain that morning. We modified our plans and went to Yoders Department Store and the Davis Mercantile instead. They are the big shopping  locations in Shipshewana and are patronized by the Amish and non-Amish alike. We had a great lunch at the Daily Bread Amish Restaurant in the Davis Mercantile.
The rain continued for the rest of the day and all night so we spent the evening in the comfort of our trailer. The next morning I woke up to find the rug next to the bed was wet. I felt around the slideout and found water right at the bottom of the wall. We were going home that day anyway so we called Camping World and arranged to drop the Kodiak off there so they could check it out.
The trip home went smoothly with only occasional showers. We went by the house and unloaded the food and clothing we had taken with us for the weekend then pulled the trailer to Camping World and dropped it off. We are waiting to hear what the service department finds out about the water leak.

Indiana on Dwellable