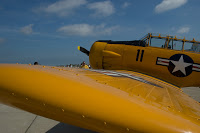 The weather was perfect yesterday and, unlike last year when a money shortage forced it's cancellation, the Waukegan Air Show was on. Georgia and I got there about 11 AM, looked over the static displays, got some lunch and staked out our spots for the 1 PM show.
Warbirds from the Warbird Heritage Foundation Museum, located on the field, were on static display. Several of them also performed flybys before and during the air show.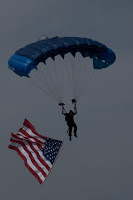 The Sky Knights Sport Parachute Club based at East Troy Airport in Wisconsin opened the show with a skydiving demo and flag presentation. All four jumpers made perfect stand-up landings right at show center. The flag was escorted by the Aerostars three ship formation team.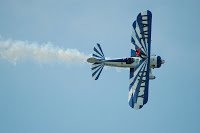 Dave Dacy from Harvard, Illinois who flew his Super Stearman in both a solo act and then later with wing walker Tony Kazian on the outside of the airplane.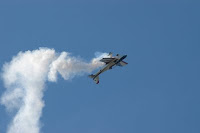 Mike Vaknin in his Extra 300L, Herb Baker and his T28C named "Ditto", Bob Davis with his Sukhoi 29, Mike Love in the Yak 52, and Jim "Fang" Maroney in his deHaviland Super Chipmunk all performed high energy solo routines.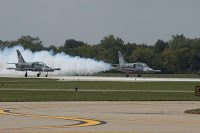 The Aerostars in their Yak 52TW aircraft and the Hoppers four ship L-39 Albatross jet team provided the precision formation flying.
Paul Stender wowed the crowd with his 300+ mile per hour jet powered Dodge Ram truck and
the jet powered outhouse comedy routine.
This was an excellent show and plans are underway to make the 2010 edition even bigger and better so, let's hope the hard financial times that forced the cancellation in 2008 are behind us for good.