I know, I have been lax about posting for a while – again. We haven't been doing any traveling for a while now.
In my last post I said that Georgia was scheduled to have hip replacement surgery in May. That surgery went well and she is now in the rehab stage of recovery. She has been getting physical therapy at home three days a week. Next week she will start going to a local facility for out-patient therapy for another four to six weeks. After that, we wont have to stay so close to home.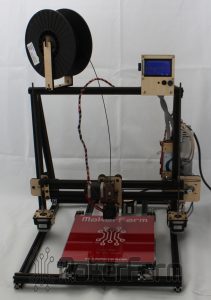 We have been talking about getting a 3D printer for a while now but just hadn't gotten around to it. So, while we have been home more, I started looking into them.
There are a lot of commercial 3D printers available now but I couldn't find one that has all the feature I want. I plan on getting into 3D printing as a hobby so I want a printer that I can modify and expand as I learn more. To get what I want, I decided I would build my own from a kit.
I have ordered the kit I chose and it should be delivered soon. I will post occasional updates here but, I have also started a new website just about 3D printing for hobbyists. If this is a subject you are interested it, you can see the new site at 3DHobbyist.com. I hope you will enjoy it.
Save
Save
Save
Save
Save
On Tuesday, July 5th, Georgia had her gastric bypass surgery at St Alexius Hospital. It was scheduled for 10:30 AM but the doctor was behind so she didn't get into the operating room until after noon. The surgery went fine but took a little longer than expected because the doctor had to work around scar tissue from old operations. She didn't get out of recovery and into her hospital room until almost 6 PM. She was still pretty groggy from the anesthetic and slept most of that evening and night.
The next morning she went for an upper GI to make sure none of the new connections were leaking but there was too much swelling and the barium couldn't get through. The doctor ordered a nasogastric tube inserted to remove the marker and any other fluids that might accumulate. She had that in until the test was successfully repeated the next morning. It all worked out OK but now she was a day behind in her recovery plan.
She got her first clear liquid  meal on Thursday. There wasn't much to choose from, just broth, jello, apple juice and popsicles, She was allowed up to 4 ounces per meal but was only able to eat a little over 2 ounces at a time that first day. She did get up to the full four ounces on Friday.
The staff at St. Alexius is great. All the nurses and PCTs were very nice but being in the hospital is still no fun. Georgia had been planning to be discharged on Friday but that extra day for the upper GI pushed her release to Saturday. By then she was definitely anxious to go home to her own bed. She has a lot of followup appointments with different doctors coming up but at least she will be seeing them in their offices and not in the hospital.
Georgia is still on a very restrictive diet and will be for a while. Right now she is on full liquids. Beginning this Saturday she will switch to pureed foods for a couple weeks , then to a soft diet for a two more weeks and finally will start adding solid food one at a time to learn how she tolerates different ones. To make gastric bypass surgery a success takes a lifetime commitment. It is not an easy way to diet. Still, it should make a real difference in Georgia's health. She is already off her cholesterol medication and taking less than half of the insulin that she was before the surgery. If it stops her gastroparesis attacks that alone will be well worth the effort. Things are looking up already!
For a while we didn't think it was going to happen but, Georgia is going in for her gastric bypass surgery tomorrow.
She has been on a high protein liquid diet for two weeks now in preparation and went to the hospital for a pre-surgery checkup and lab work last Tuesday. Her kidney function readings were pretty high so the doctor considered delaying her surgery. He referred her to a nephrologist who though the problem might be too much protein. She had a test done in March and he hoped that by reducing her protein intake and stopping her cholesterol medication, which can also be hard on the kidneys, she could get back to those March levels in a couple day. He also scheduled a kidney ultrasound to make sure there were no other issues.
The ultrasound came back clear and, by following the doctors revised diet advice, Georgia's retest on Saturday was back to the March levels and she was cleared for surgery. So, we are spending our 4Th of July at home getting ready to go to the hospital early in the morning.