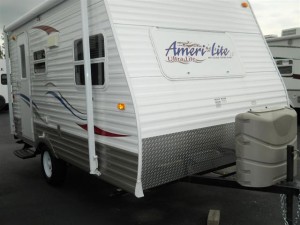 On the lot at Camping World
Georgia and I had been considering a small travel trailer that we could pull behind our Jeep Liberty and had even looked at a few. But, with the Alaska trip coming up and not much vacation time left for this year, we had pretty much made up our mind to wait until next spring to buy. Then, two weeks before our trip, we stopped at Camping World where we came across a barely used 2011 Gulf Stream Amerilite 15BH. The like new condition of the trailer and a very good price convinced us not to wait. We bought it that day.
Three days after the purchase, we were back at Camping World to pick up our new toy. We had also ordered a weight distributing hitch and a brake controller. While those were being installed on the Jeep we got a walk through of the trailer. We are not new to RVing having owned a mini-motorhome, a large class A motorhome and a park model trailer that was set up at a campground. The in and outs of holding tanks, propane systems, 12v circuits, etc are old hat to us so the orientation went quickly.
What is new to us is towing our RV, that we had not done before. Once the Jeep was all set up by the service department, Katie, the service rep who was doing our orientation, had me back it up to the trailer and we went through the intricacies of hitching up. I learned about seven way electrical plugs, attaching weight distribution bars, installing the anti-sway bar and all the other little details of hitching. Then she sent us on our way to learn the actual towing part on our own.
The short trip home went fine. The trailer is easy to pull and seemed to ride smoothly behind us. Of course, when we got home we had to figure out how to back it into the confined space next to the driveway. I'm sure the neighbors enjoyed that show. I almost expected them to bring their lawn chairs out to get a better view. We finally did get it parked – after much trial and error.
A couple days later, I came home from work to find a notice from the village telling me the trailer had to be parked on the driveway and not beside it. So, we hitched it up again and went through another session of backing and  pulling forward until it was on the pavement. Of course, now our second car has to be parked behind the garage door making it a pain to get the Jeep out. We are looking into having a new pad poured just for the trailer.
We did some accessorizing and interior organization before we went to Alaska.  Since we have been back, we did more work inside to set it up the way we want it but other commitments on the weekends meant the trailer hadn't moved again until this past Friday. We wanted the first trip to be a short one just in case we ran into unexpected problems. We picked the Chain O'Lakes State Park just a half hour away from us and reserved a spot for Friday and Saturday nights. This was an electric only site so we would be using our fresh water tank and testing our ability to live within the capacity of our holding tanks.
I got home from work early on Friday. We loaded the last of the clothes and food into the trailer and I went through the hitching ritual taking care not to miss anything. We were back into record heat here in Illinois last week and I worked up a good sweat just getting ready to go.
The drive to the park went fine. We encountered both highway driving and city traffic and our rig handled both with no trouble. We checked into the campground, got directions to site 19 in the Honeysuckle Hollow section and asked about where we could fill our water tank. It turned out that there were convenient water spigots in several locations and we filled up at the first one we came to. The trailer holds 30 gallons of fresh water so that is what we had to work with for the next two days.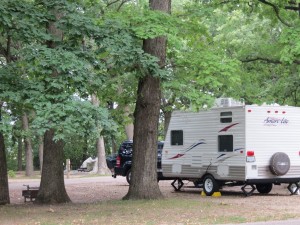 Snuggled in at the State Park
Our site was a pull through, which we had intentionally chosen to avoid any stress on this first outing. It also turned out to be very level so we didn't have to mess with the leveling blocks we bought. With only an electrical cord to plug in we were set up in no time. Georgia turned the air conditioner on to cool the inside while I unhitched and lowered the stabilizers. Despite the 95 degree heat, the interior was cool within just a few minutes – it is a small space after all – and we could just relax for a little while.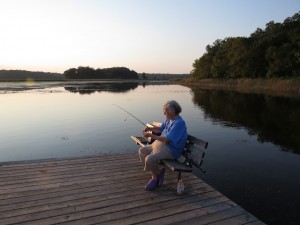 We enjoyed the weekend, did a little fishing and some open fire cooking but mostly just learned the pros and cons of our new trailer. Converting the dinette into a bed at night is a definite nuisance. We used the supplied cushions the first night but weren't really comfortable. Saturday we took a drive to Walmart and bought an air mattress. That was much better except that the mattress leaked and was flat after a couple hours. Once we take it back and get a new one we should be good for sleeping.
TV viewing was another negative. We never did manage to get satellite working so that is going to take some more investigation. The antenna isn't very sensitive so over the air channels kept fading out. We would be watching and then suddenly get a black screen with a message that the digital signal strength was too low. Also, the position of the TV itself needs some work. I need to find a way to install an adjustable arm for it. These are things I can work on in the driveway.
Our plumbing served us well and we didn't even come close to filling the holding tanks despite not being very careful about our water use so that was on the pro side. We also got better at staying out of each others way as we moved around the small interior so the space is probably fine for us. Overall, this was a successful test run. I have no doubt we will work out the minor annoyances over time.
We will be going a little further and staying a little longer over the upcoming Labor Day weekend. Stretching our range a little at a time. There should be many pleasant trips ahead for our tiny home on wheels.


Illinois on Dwellable