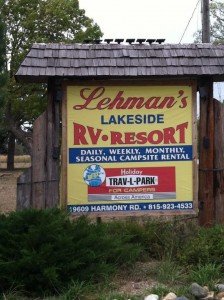 We took advantage of the long Labor Day Weekend to return to Lehman's Lakeside RV Resort where we were seasonal campers for over 10 years. This time we were there as weekend campers but, at our request, were given an RV site in the seasonal area. It was good to meet up with old friends and participate in the weekend activities.
We had a campfire dinner with friends on Friday night, went to the pig roast and potluck on Saturday and to the beach party on Sunday night. It was a very fun weekend and another successful trip with our new travel trailer. I'm sure we will be back often.
No camping next weekend since we plan to go to the Wings Over Waukegan airshow on Saturday.