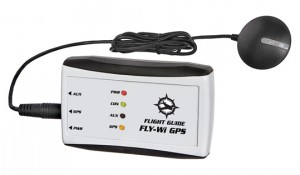 While the iPad is proving to be a very popular and useful tool for aviators – both on the ground and in the air – I think a great many of us would like to be able to see real time XM weather on it while airborn. The day when that is possible may be near. Airguide Publications, who offers the Flight Guide iEFB for iPad, is taking pre-orders for an external GPS receiver that connects to the iPad by WI-FI. The Fly-Wi GPS includes the WAAS GPS receiver and a wireless transmitter that creates a WI-FI hot spot in the cockpit.
While this already looks like a good add on for the iPad, Airguide also included a teaser that  really got my attention. Quoting from their web site:
As an added bonus the Flight Guide FLY-Wi GPS includes an auxiliary jack that, with future updates to Flight Guide iEFB, will give pilots an in-flight weather option for integrating XM or ADS-B to display on Flight Guide iEFB seamless charts!
I
hope we see that update soon and I also hope that this is just the start of a bunch of new hardware devices to expand the iPad's cockpit utility. Other external GSPs are already available like the Bad Elf and the
GNS 5870 MFI Bluetooth GPS Receiver, both supported by ForeFlight Mobile HD. Now it looks like interfaces to weather and traffic hardware might be coming too.