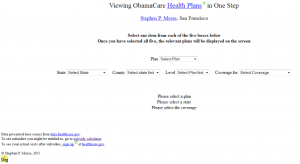 I am a long time family history researcher and, in my genealogy searches, I have become very familiar with the One-Step Searches of genealogy sources that Steven P. Morse has generously made available. Now Dr. Morse has turned his search methods to a project that will be useful to more than just genealogists.
Go to Viewing ObamaCare Health Plans in One Step for a very simple way to find out what Affordable Care Act insurance plans are available in you state and county. Unlike the government web site, this site is easy to use and doesn't require you to set up an account before you can search. You wont be able to sign up for a plan here, but it is a very easy way to start your research.
The plans I saw here in Illinois are very expensive. I also found a calculator you can use to estimate your federal subsidy at http://kff.org/interactive/subsidy-calculator/. Georgia and I don't qualify so we would have to pay full price. Fortunately, we are covered by my plan at work.