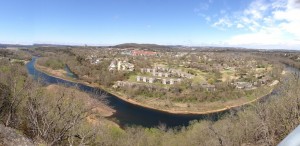 Instead of a short shakedown trip with our new travel trailer, we dove right into an 1100+ mile round trip to Branson, Mo. We had never been there so, when I found an opportunity to get RV driving instruction in Branson we decided to make a week out of it.
There is a red barn at the park
Our training started on Monday, April 8 so we left home on Saturday. That first day was not a very good towing experience. We had a strong, gusty head wind that kept our gas mileage very low and made me fight the trailer which wanted to head off the edge of the road every time a gust hit it. But, after a lunch stop at a rest area, we made it safely to Edwardsville, Illinois and to the Red Barn Rendezvous RV park for our first nights stay.
The park was nice and was uncrowded at this early time of the season. We had a pull in site and got setup quickly. The site was level so we didn't even need to use any leveling blocks. The trailer held up to the first day of towing pretty well except that we found the cover for the battery box was missing. The hold down strap was still looped over the trailer frame but was ripped in half and very frayed. I could only guess that the battery had been bouncing up and down and the buckle had worn through the strap.
We unhitched and took the truck to a local auto parts store for a battery box then to a restaurant for dinner. When we got back to the park I put the cover on the battery and this time strapped it down with a bungee cord as well as the strap that came with it. Then it was time for a  little TV and an early turn in.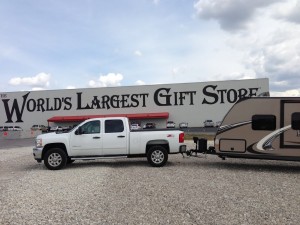 Guess why we stopped here
Day two was a much easier day with only light winds.  As we got further into Missouri, the hills got steeper. The truck handled them well enough considering we have a gas engine. Overall, I was pretty happy with the performance. We only made one shopping stop and a lunch stop along the way.
We arrived at the Turkey Creek RV Village a little after 3PM. Again we had a level pull through site so setup was quick. Our training would start the next morning so we didn't pull a lot of stuff out. We went out to eat again. As we were driving through Branson we found the Farmhouse Restaurant so stopped there for dinner. For a random pick, it turned out to be very good.
Day three was our first training day. I got up early enough to drain our tanks and get ready to go before our instructor arrived a little before 8 AM. We were both showered and anxious to go when he arrived.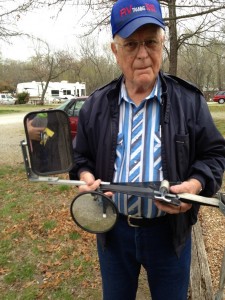 Rick shows what mirrors should look like
We had signed up with Rick Andrews RV Training School. Rick turned out to be a very patient and knowledgeable teacher.  We started by going over the rig and getting hitched up. He suggested some small changes to our setup that would make towing easier. The biggest change will be to our towing mirrors. Rick pointed out that, even though the truck came with what Chevy calls "towing mirrors" they don't actually extend out far enough to be effective (or technically even legal). We still have the mirrors we bought for the Jeep Liberty so we will start using those too once we get home.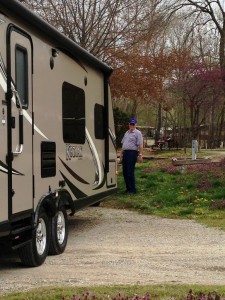 Backing practice
With the trailer all hooked up it was time to start towing. We stayed in the park for the first 3 hours to work on backing. Straight line backing was easier after a few hints from Rick. Then we did backing around a corner and, for most of the session, backing into parking spaces. It is great that Turkey Creek let's Rick use the park as a real world training ground.
After the work on basic backing, we left the RV park for some instruction on handling the streets. We made plenty of turns to both left and right as Rick explained how to handle different lane configurations. Toward the end, some of those right turns got pretty tight. I managed to miss all the curbs though so I think it went pretty well. I did feel more confident towing in traffic after this lesson.
Once back in our parking space at Turkey Creek, Rick left us for the evening. We were both tired after the workout so we just ordered a pizza for dinner.
Backing into a tight space
Rick was back at 8 AM on day four for our second driving session. This lesson started out with more advanced backing including getting into parking spaces when there is very little room to maneuver and backing to the blind side. Again, thanks to Rick's patience and excellent instruction, it went well.
The final lesson included a little more street driving before we headed out on the freeway to practice lane control, merging, passing, hill climbs and descents, etc. We put on many highway miles as we learned a lot from the different conditions encountered.
Once back in the park, our lessons were over. Rick gave us a few final tips then left us on our own. Now that we wouldn't be pulling the trailer for a few days we pulled out more of gear. That included the grill so that we could barbeque some chicken that night.
The rest of the week was ours to do what we wanted.


Branson on Dwellable