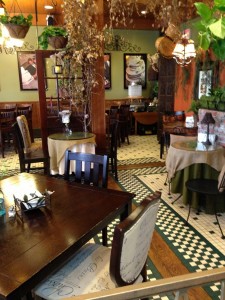 Sugar Leaf Bakery Cafe
Day five was our first free day of the trip but it was pretty cold and wet. We spent the day exploring many of Branson's craft malls and bought show tickets for Thursday and Friday night. We had planned to go to Silver Dollar City for a couple days but found that this early in the season many of the attractions there were not even open yet. Besides that, we heard from several people that the park is not good for anyone who has difficulty walking. It is spread out with a lot of steep hills. In the end, we decided to skip it. Lunch was at the Sugar Leaf Bakery Cafe.
Back at the trailer, we stayed warm inside by using a ceramic heater. It kept us toasty without burning any of our propane. We used it for three chilly nights so it is turning out to be a good investment. We bought it at Walmart for less than half price when they had them on spring closeout.That and the electric water heater in the Kodiak are great choices when plugged into RV park power.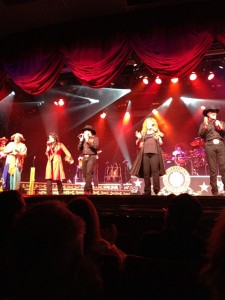 Baldknobbers Jamboree
Day six was again cool but at least it was dry all day. We did more shopping in the morning then went back to the RV park to relax for a few hours and fix dinner in the trailer.That evening we drove to the Baldknobbers Jamboree Show. This is one of Branson's first shows and still going strong. It is a mix of comedy and music that is family friendly.
Day seven was warmer than the two days before, at least we didn't need coats. The day started with a trip to Sam's Trailer Service to pick up a couple light bulbs. The one in the range hood blew out the first time we used it so we got a couple spares.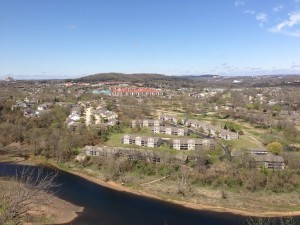 Branson Overview
On the way back into town, we stopped at a overview where we could see all over Branson. The area is very scenic once outside the town. We went back to the trailer to get ready for dinner and the next show. We also started packing up since we would be leaving for home in the morning.
We considered several dinner choices then ended up going back to Baldnobbers – this time to their restaurant. We both ordered the dinner buffet that gave us many food options.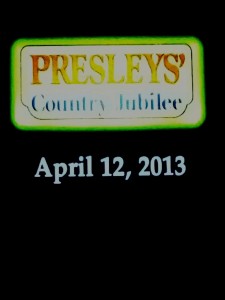 Waiting for the Presleys
Tonight we went to the other original Branson show, Presley's Country Jubilee. It too was very entertaining evening and we both enjoyed ourselves.
The Presley's and the Baldknobbers do very similar shows. I slightly preferred the Baldknobbers more laid back style. The Presleys seem to be going for a more polished performance that sometimes comes off as a little over rehearsed. Still, if you are in Branson, I'm sure you will enjoy either one or both – we did.
Day eight was one of the nicest weather days we had on the whole trip. Too bad we had to spend it driving. But, it was time to go home. We finished packing the trailer then were hitched up and on the road by 9 AM. We only made a couple stops before arriving in Saint Louis in the early afternoon. We continued on to the Illinois state line and then exited in East Saint Louis for our last night on the road.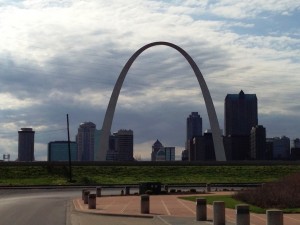 Gateway Arch
We had a reservation at the Casino Queen RV Park and, after only one wrong turn, found our way there. The park is right next to the casino and that is it's main attraction. The RV parking itself is pretty open with black topped spaces. Still, it was comfortable, has a view of the Gateway Arch, and made a good midpoint stopping place for this trip.
We took the truck to fill up the gas tank and then stopped at the casino for the dinner buffet and a little slot machine play. I lost but Georgia won enough to make up for it and put us a few dollars ahead.
I woke up early the next morning and checked the weather. I was surprised to see a severe wind alert starting later that morning. Gusts to 45 mph or more. We had planned to leave about 9 AM but, considering the warning, I got Georgia up so we could get going as soon as possible. We were on the road by about 7:30.
As the day went on, the wind got worse and by mid morning I was really fighting it. We had a quick lunch at a rest area then got back to the task of getting home. The wind was with us until we were just a few miles away from the house. I saw the temperature drop from 70 to 53 as we went through the front and then the wind was lighter on the east side of it. We made it home without any incident – just some tiring time behind the wheel.
This was a good first trip with our new trailer. Thank you to Rick Andrews for passing on some his extensive RV knowledge. We learned a lot and had a good time too.


Branson on Dwellable