Tuesday-  Shopping Day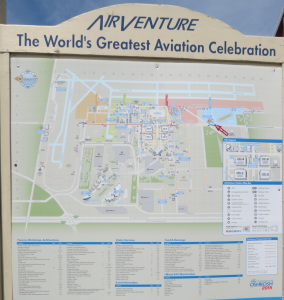 I attended two forums on Tuesday.
The first was FAA Section 333 Exemptions presented by Drone Media Group. This FAA exemption deals with using drones commercially in the United States. During the talk I learned that every commercial drone flight requires the UAV to be operated by a licensed pilot. That means even a private pilot like me can be paid for operating a drone. Something to think about.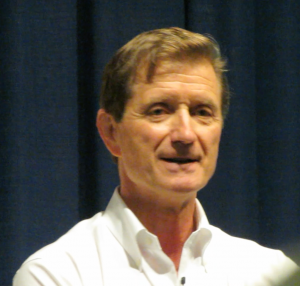 The second forum was one I never miss when I'm at Oshkosh – Hanger Flying with Rod Machado. Rod is a funny guy and a wonderful educator. His talks also point out valuable safety messages. If you get a chance to hear Rod talk, don't miss it. He is great!
Lunch was back at the trailer where I also rested up for a couple of hours. Then I caught a golf cart (rides kindly provided by Sleepy Hollow Farms) back to the main gate.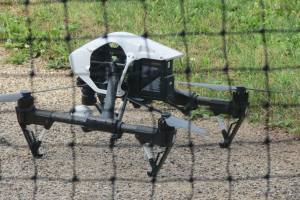 I took a walk through a couple of the exhibit hangers but eventually found myself back at the drone cage and the Innovation Center. This would get to be a habit over the rest of the week. I skipped the afternoon airshow to watch the drones. They are just so fascinating.
I shopped around at the booths the various drone vendors had in the center and checked some prices before headed back to the coolness of the Kodiak.
Wednesday – Ultralights
Wednesday morning I got a golf cart ride over to the bus park then jumped on a tram to take me into the grounds. After a couple tram changes I was at the ultralight field.
When I got there the announcer was telling the crowd that the field, and the whole airport, was closed. I didn't know why until later when I heard that five people had been injured in a plane crash while landing.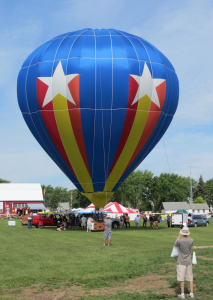 The delay ended up being about 2 hours. I used the time to look at the ultralights on display, watch a balloon inflation and just wander around.
I made it to the Ultralite Barn which I hadn't visited before. It's mostly just little stuff for sale but it killed some time.
From there I walked back over to the landing strip and got there just about the time the field reopened.
What I was there for was the short takeoff and landing contest featuring aircraft that compete in a much larger competition in Valdez, Alaska every spring. They do make it short! The winner this year was 44 feet.
After the completion, I took the trams back to the forum area and attended a Seaplane 101 presentation given by Steve Robinson. Another aviation activity I would like to try some day.
I got lunch on the grounds because I wanted to catch a 1 PM forum called Avoiding Unwanted Adventure presented by John and Martha King. Everyone in aviation knows who the Kings are and there talks always draw a standing room only crowd. They didn't disappoint.
After the forum I found myself back at – you guessed it – the drone cage. This time I saw a demo of the drone that really made up my mind about which one I would like.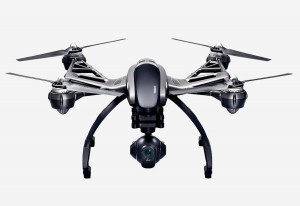 The Yuneec Typhoon Q500 4K is now my choice. It looks great and performs as well or better than any other in it's price class. I want one.
Thursday – Georgia's Day
I had promised Georgia that Thursday was her day. Each year there is a quilt show in Oshkosh that is held during AirVenture. Thursday was the day this year.
I dropped her off at the show then went down the street to get some breakfast. After I ate I was going to get a haircut but, while I was waiting, Georgia called and said she was ready to go.
I picked her up and drove her back to the quilt store she visited before. This time I waited outside for her then we had lunch and made another stop at Walmart to restock some groceries. We got back to the trailer fairly early but I decided to pass on going back to the show grounds. It had been hot and dry since we arrived and I welcomed a break in the cool air.