Friday – Seaplane Base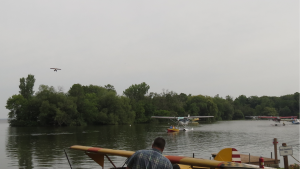 I hopped a shuttle bus out to the seaplane base Friday morning. It is always much more peaceful out there, away from the crowd at the main show grounds. Still, there were more people there than I have seen on any previous visit. Maybe the word is getting out.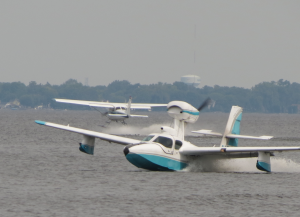 There were also more takeoffs and landings than I usually see so that was good. I'm not sure why, but I love watching seaplanes operate. I would like to give it a try someday.
I stayed out there for most of the morning then caught the shuttle back. It was a whole lot hotter out in the open at Whittman Regional. That's the trouble with airports – no trees big enough to give any shade.
I joined Georgia for lunch at the trailer then went back over. This time I looked through all four of the main exhibit hangers and the Fly Market. That took up a full afternoon and I was ready to get back and relax. I used the Sleepy Hollow golf cart shuttle service to return.
Saturday – Night Airshow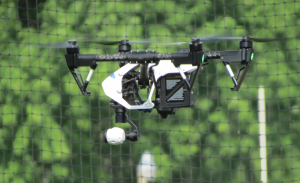 On Saturday it felt like the show was starting to run down – and so was I. I got a late start on the day and didn't go over to the grounds until around 10 AM I hung around the drone cage until it was time for a forum on called Getting Started in Quadcoptors presented by Randy Braun. This was a very thorough introduction and well worth my time.
I got lunch on the grounds then shopped around for a while before getting a golf cart back to the trailer. I hung out in the cool for a couple of hours, had dinner then walked back over to flight line for the night airshow.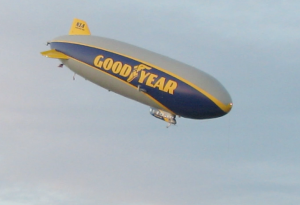 I love these after dark shows and this was a good one. The Goodyear blimp put in an appearance at dusk and bowed to the crowd.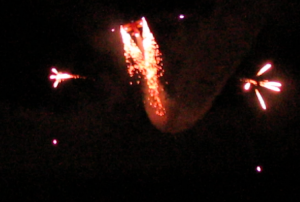 After dark is when it really gets good. The airplanes light up the sky with pyro and LED lighting.
Even the sailplane of Luca Bertossio was lit up for the night. His graceful sky dance is beautiful during the day but even more so at night.
Sunday – Wrap up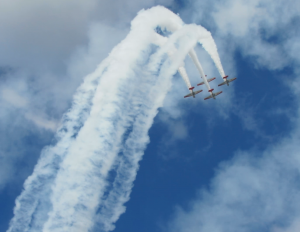 The final day of AirVenture 2015 was another warm one. Georgia and I went over to the main gate together to do a little last minute shopping. I was still debating about taking the Yuneec Q500 drone home with me but, in the end, decided not to. It is available on Amazon when I do decide to buy it. For now, I want to do more research – especially about restrictions in my area. It seems more of them are popping up every week. Chicago and most of the suburbs have ordinances on the table.
We got lunch at Buca di Beppo which is a favorite of ours here at home. The tent set-up at the show didn't to the restaurant justice. I might have been because it was the last day but the choices were very limited and not the best. Still, we were at AirVenture and watching the afternoon air show while we ate!
After lunch we slowly made our way back over to Sleepy Hollow Farm and got started on packing up for the trip home the next day.
Monday – Home
Monday morning we were up early to eat breakfast and finish preparations for the drive home. I emptied the holding tanks one last time then shut off the water. When Georgia was ready inside, I pulled the electrical cord, lifted the stabilizers the backed in to hitch up.
Now we were all hitched a ready to roll but, before I could pull of, a motorhome stopped right in the middle of the road I had to take out of the park. The couple in it was loading a Jeep, golf cart and motorcycle onto a trailer behind it. I don't know how many times they have done that but it seemed to be taking them forever.
Finally, when it looked like they were almost ready, they both disappeared. Fearing that they had gone inside for lunch, I gave up and pulled out of our space going away from the exit. We drove done a narrow road to another section of the campground where we found room to turn around. The we went back the way we came and were able to go around the still working motorhome couple and get out onto the road. The rest of the trip home was uneventful.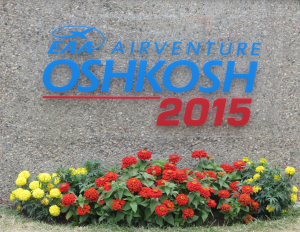 This was a very different AirVenture for me. Most years I have my itinerary planned before we even leave home. I watch every airshow and do a few forums every day. This year I only saw a couple airshows, spent more time at the Ultralight Field and a whole lot of time at the drone cage. I enjoyed myself a lot. I took it easy and still saw what I wanted to.
My lesson from this is to play it by ear more and not try to plan too much ahead of time. I think it makes it even more fun!