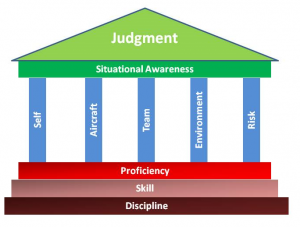 Skill Aviation is in the middle of hosting a two part seminar titled Your Personal Airmanship Development Program. The seminar is being presented by Captain David Koch, an 18,000+ hour airline, military, and general aviation pilot and CFI. Learn more about Captain Koch and the seminar at Center For Airmanship Excellence website.
 As Captain Koch asks in each section of  his presentation, "If I don't fly right – should I fly at all?" Comparing the general aviation accident rate to that of the airlines reveals that GA is, on average, 38 times more dangerous that airline flying! But, your personal flying can be more or less dangerous that the average. It really depends on you. This seminar presents the knowledge and tools you can use to greatly reduce the risk to yourself and to others sharing the airspace.
The first session, which I attended on Saturday, covered the definition of airmanship and the reasons why personal airmanship development is so important. Captain Koch introduced the Airmanship Model developed by author Tony Kern in his book Redefining Airmanship.
Next Saturday, the second session will focuses on creating and following a personal airmanship development plan. Key topics will include assessing each individuals current airmanship level and identifying a path to reach our development goals.