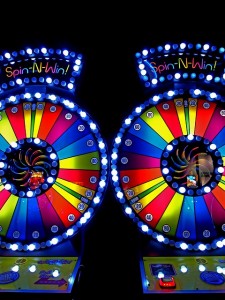 On Wednesday of last week, Georgia and I took a "cabin fever" break by making a short two night trip to Wisconsin Dells.
We stayed at our favorite hotel in Baraboo and spent much of our time at Ho-Chunk casino. They had a promotion going on that awarded rewards play for certain tasks. 10 points for dining at one of the casino venues, 10 for signing up for the newsletter and others. We each ended up with $50 dollars of free slot play.
It was nice to get away during the winter and we ended up doing just a little better than break even so we were happy.
When we got up Friday morning, Georgia had a message on her phone telling her that Virgina,her mother-in-law from her first marriage, had died during the night. It wasn't totally unexpected since she was 90 years old and had been suffering from Alzheimer's for several years.  This was Angeli's grandmother and Max's great grandmother. So, we started planning a trip to Michigan for the funeral.
We got home Friday night with the intention of staying there a couple nights then leaving for Grand Rapids. Saturday we learned that the viewing and funeral would both be held on  Wednesday so we decided to wait until Tuesday to go.
We went through our usual routine with Max staying at our house Sunday afternoon to Tuesday. He didn't really understand what going on a trip was all about, since this was going to be his first, but he was excited that something was going on. He must have heard someone talk about a family trip because when we talked to him about it he would always say; "A trip with my family."
Tuesday we loaded the car and got going about noon. The forecast was for show showers in Grand Rapids but nothing serious. That would turn out to be wrong!
We dropped Max off earlier than usual because he would be going with his parents. From their home in Chicago we continued our trip east. The roads we good for the first part of the drive.
We had decided to stay inland away from Lake Michigan to try and avoid lake effect snow but still, when we were still about 100 miles from Grand Rapids, we hit the first light snow. It was melting on contact so it was just making the road wet.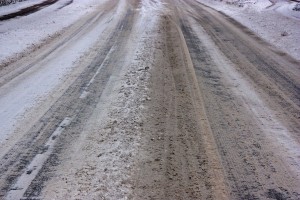 The closer we got, the harder it was snowing. As the sun went down, the wet road turned to slush and then to snow covered ice. Our last 30 miles we were only going 30 to 40 miles an hour and the last 10 was more like 25 MPH.
We were relieved when we got to the hotel but we knew that Angeli, Edwin and Max were still behind us since they left later than we did. We could only hope the plows and salt trucks were out doing their job.
Unfortunately, that wasn't the case. They had even worse conditions than we did and for a longer distance. What should have been a 3 hour trip ended up taking them 4 1/2 hours and was white knuckles for the last 1/3 of the way. Everyone of us was very glad when the arrived about 11:30 PM.
Wednesday the weather was clear and the main roads were good. Georgia and I got to the funeral home about 10 AM for gathering of Virgina's immediate family. Then at 11 the visitation for the public began. Angeli and Edwin slept in a little after their harrowing drive of the night before but they got there with Max before the funeral at 1 PM.
Max was a big hit with all the relatives he hadn't met before. There is nothing shy about him. He was happy to talk to everybody. The only problem was that he couldn't stop talking when the service was about to start so Edwin took him to a room reserved just for such occasions. Speakers on the wall  let them hear what was going on so they weren't completely left out.
After the funeral service, we went to the church for a late lunch. Max got to run around and burn off some energy there at least.
That night we met up with friends for dinner before turning in to rest up before the drive home.
When we got up Thursday morning it was snowing again. Luckily though the roads were just wet so we went ahead and made the drive back home. The last 2/3 of the trip was on dry roads.
Any time we have to travel in the winter around the Great Lakes it can be a challenge. Lake effect snow can pop up on one or the other side of Lake Michigan anytime the wind blows. Sometimes though, we just have to go anyway.