Our tiny travel trailer is tucked away for the winter but camping is still on our minds. We have been spending time at RV dealers looking through every trailer on their lots. We haven't definitely made up our minds to buy a new one but we are seriously considering it.
When we bought our 15 footer, we had a different set of criteria than we have now. Then we were looking for a trailer we could pull with our Jeep Liberty and the Ameri-Lite fit into those plans. Now that we have a more capable tow vehicle, we have the leeway to put together a list of just what we want in a weekend getaway trailer. We have the opportunity to correct some of the shortcomings of the Ameri-Lite.
Our current floor plan
Our biggest complaint is with the sleeping arrangements. We have to convert the dinette into a bed at night and then back into a table in the morning. While it is our bed, there is no room to walk around it and we end up crawling over each other when the inside person has to get up.
No slide out makes for a tight space inside. We barely have enough room to pass each other. We have very limited storage. That is OK for a weekend but it would be tough to pack enough for a long trip. Basically we would like to have more space. Since camping season is over for the year, we have time to look at what is available.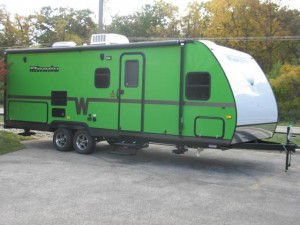 We started out without any restrictions and looked at everything from 18 foot travel trailers that are just slightly bigger than what we have now to huge fifth wheels that we could live in if we chose. After hours of climbing in and out, we have narrowed out search considerably. We have a much better idea about what will meet our needs.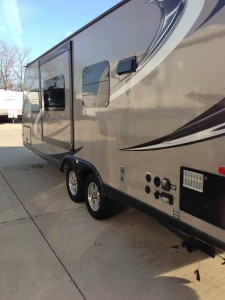 We want something under 25 feet and not overly tall so we can get into smaller campsites and not knock down any tree limbs along the way. That pretty much eliminates fifth wheels so we are concentrating on conventional trailers. We want hard sides so that means a travel trailer – not a tent camper or hybrid. It absolutely has to have a separate walk around bed – no converting tables or couches unless we have guests. Wardrobe and pantry space are important and the more cabinets and drawers the better. Fresh, black and grey water tanks big enough for several days of camping are also important. If possible, we would like to be able to use at least the kitchen and bathroom with any slides pulled in. That way we can pull into a parking lot or rest area for a break and be able to fix lunch in our own kitchen.
With those criteria in mind, we are looking at 21 to 25 foot travel trailers with a slide out. Now we just have to identify the right one. We are narrowing down the list of possibles but haven't committed to anything yet.
A floor plan we like