The day before Thanksgiving, Georgia and I left Illinois for the mountains of Tennessee. That first day we drove to Shelbyville, Kentucky where we spent the first night. There was plenty of traffic on that traditionally heavy travel day but no major backups so it was a pretty easy trip.
Thanksgiving morning we got an early start on the final leg to Pigeon Forge. We stopped for lunch in Knoxville where we had the Thanksgiving dinner special at Cracker Barrel. The restaurant was crowded and we had about a 40 minute wait but the meal was worth it. Roast turkey with all the trimmings at a very reasonable price.
After lunch we finished the trip and met up with Georgia's brother Eddie and his wife Bonnie. They had driven up from South Carolina and, by shear coincidence, we arrived within minutes of each other. After saying our hellos we headed up into the Smoky Mountains to have a look at America's View, our rented cabin. The road is very winding and steep. A real thrilling trip for flatlanders like us. We were just glad it wasn't snowing.
The cabin itself was great. Two bedrooms (each with it's own bathroom), a living room with wood burning fireplace and a full kitchen. We were very high up and the view off the wrap around porch was spectacular. This was to be our home for the next three nights.
After unloading the luggage, we all got into our truck to go back down the mountain and into Pigeon Forge for the evening. That long truck forced me to swing wide on the switchbacks that made up most of the road. We met several cars coming up and had to pass them with only inches to spare. Strangely enough, this was the only time we met other vehicles. On every other trip we had the road to ourselves.
We were going to go back to Cracker Barrel for dinner but the wait was over an hour and a half so we went to Shoney's instead. It wasn't a full turkey dinner but it was still very good. Being Thanksgiving, most of the businesses and attractions were closed. We stopped at a grocery store to get some breakfast food for our stay and then made the trek up the mountain again. This time I was driving in the dark which made it even more thrilling. It was hard to see where the road curved and they came up quick. At least we didn't meet any other cars.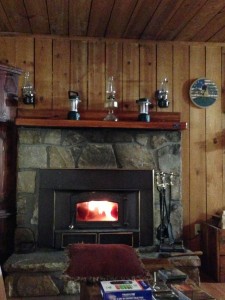 We hadn't seen Eddie and Bonnie in a long time so, after we were done unpacking, we spent the evening sitting by the fire and getting caught up. We were all tired after driving that day so we turned in fairly early.
It rained a little during the night and Friday morning was cold with ice covering the rain puddles. Eddie started a fire in the fireplace while the rest of us fixed a good breakfast of eggs and bacon. We were going to the Dixie Stampede for dinner that night so we ate late with plans to just snack at lunch time. It was 10AM by the time we started for town. Eddie was driving today so he got to experience the downhill trip.
We did a little shopping, went to the Apple Barn where we ate delicious apple dumplings then drove toward Gatlinburg and the Great Smoky Mountains National Park for a little sightseeing. All too soon it was time to head back to Pigeon Forge for the Dixie Stampede. We were going to the matinee so we had to be there about 2:30PM. We arrived just as the pre-show was starting. We walked right in without waiting in line. The opening act was Mountain Rukus, a very good bluegrass group.
When the doors opened, we went into the main show area and found our seats. Dinner and the show were very good. This was the same Christmas Show that Georgia and I saw the last time we were in Pigeon Forge but it was still very entertaining to us. It was the first time at Dixie Stampede for Bonnie and Eddie so it was fun to share it with them. After dinner and the show, we made the drive back to the cabin for another evening by the fire.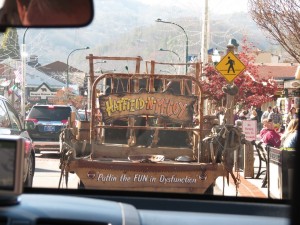 On Saturday, we had a leisurely breakfast then drove to Gatlinburg where we planned to take the tram up to Ober Gatlinburg. The traffic was very heavy along the Parkway but it is fun to see the sights in downtown Gatlinburg. Besides, we were behind  a Hatfield and McCoy truck that was entertaining the pedestrians along the way.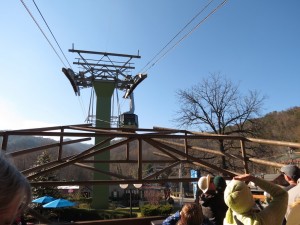 It was already late in the morning when we arrived at the tram station and there was a long line for the tram so it was noon by the time we got on and rode to the top.
We got a light snack at the Sidewalk Cafe then watched the skaters on the indoor rink while we ate. We browsed through some of the shops before catching the tram back down the mountain.
We took the bypass back to Pigeon Forge, avoiding the heavy traffic on the Parkway. That made it a much quicker trip than the morning drive. We made another stop at the Apple Barn, did a little more shopping then had dinner at Outback before going back to the cabin for our last night in the Smokys.
The temperature was 19 degrees when we stepped outside on Sunday morning. We loaded the cars and said goodbye before starting our last trip down from Bear Mountain. At the end of Bear Mountain Lane, we waved goodbye to each other as we turned right and Eddie and Bonnie turned left.
Georgia and I had decided we wanted to stop at an RV dealership in Shipshewana, Indiana on Monday so we tried to change our hotel reservation to get us closer on Sunday night. Georgia made phone calls while I drove. No luck switching though. We had booked a room in Edinburgh, Indiana with an Internet only rate that was non-cancelable and the hotel held us to it. We could still make the trailer shopping stop but we would have to get an early start the next day.
The drive to Edinburgh was not too bad. Traffic was fairly heavy but, like the trip down, only a few backups so we got there by 4 PM. After checking in and relaxing a little we went across the street to Max and Erma's for dinner. Then back to the room where we watched a little TV before going to sleep.
On Monday we got up about 5AM, showered and got ready to go. We loaded the truck then had breakfast at the hotel before getting on the road in the dark. We had about a three and a half hour drive to Shipshewana where we arrived at Wana RV right at 10AM. This dealership is located just a few miles from several RV manufacturers so they have no shipping costs. Because of that and low markups, their prices are some of the best we have found on the trailers we are interested in.
We spend the next couple hours going through some travel trailers we liked. We chose a couple we could be happy with then went inside to talk to a sales person. I was glad to see that she was willing to answer all our questions but didn't pressure us for a decision. She did let us know that if we decided to order one we would get the same price they had listed – adjusted for any options we left off or added. Georgia and I talked it over during the ride home and ordering just what we want is probably the way we will go.