I did a couple more complicated modifications to the Kodiak this past weekend. These were not difficult but they weren't just adds on either. Both took a little work to install.
First, I added a StarLights LED fixture in the bathroom. We chose this particular fixture because it has provisions for adding accessories into the basic unit. We added a night light, a dimmer and a motion detector. To add all three also required a PCB adapter module.
I removed the old fixture by unscrewing it from the ceiling and cutting the existing wires (the bathroom fixture has a wall switch so I just shut it off  – didn't have to unplug the trailer power and disconnect the battery). I cut as close to the fixture as possible to leave the maximum length of wire sticking out of the ceiling. Next I stripped a little insulation from each wire and used a multimeter to make sure the colored wire was really positive. The PCB adapter module is sensitive to polarity and not all RV fixtures are wired correctly at the factory.
I installed the adapter module and the three accessories in the Starlights fixture then used the supplied crimp connectors to wire the new fixture in. The old holes didn't line up so I just drove the screws into new locations and the installation was done. I turned the switch on and made sure everything worked.
The other project was to install the Winegard SensarPro TV Signal Strength meter that Georgia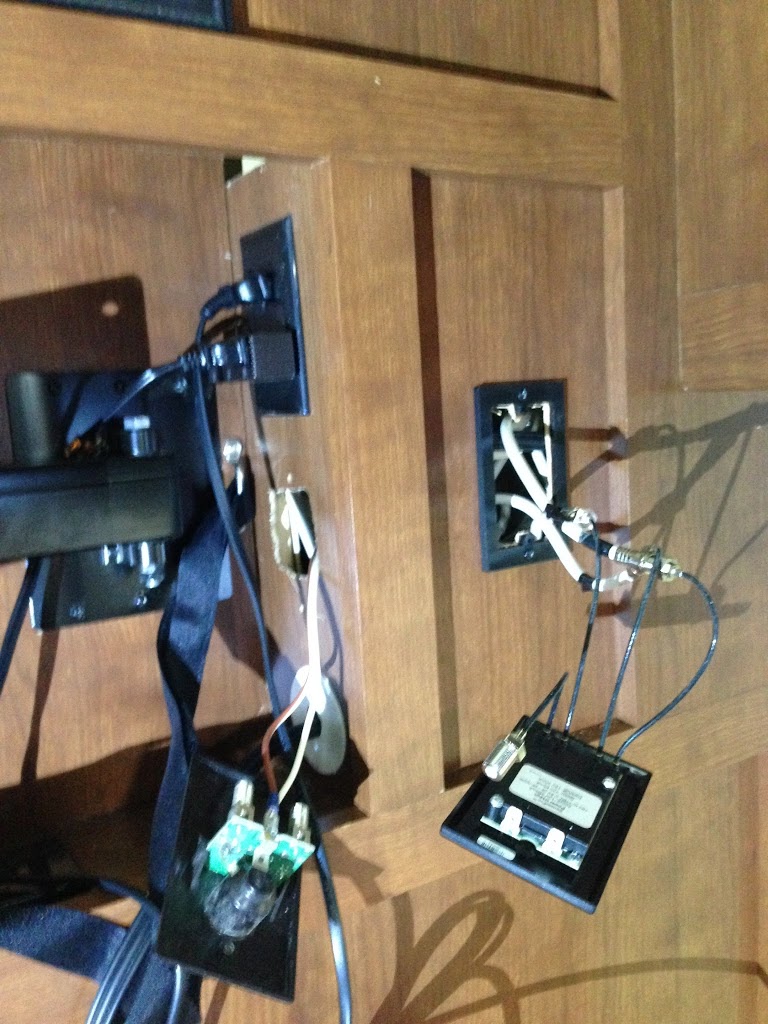 bought me for Christmas. The easy way to do this would have been to replace the existing TV outlet/amplifier with the SensarPro. I didn't do that. The old outlet was located in the wall cavity with the TV. If I put the SensarPro there, I would have had to crane my neck around to see the numbers as I adjusted the antenna.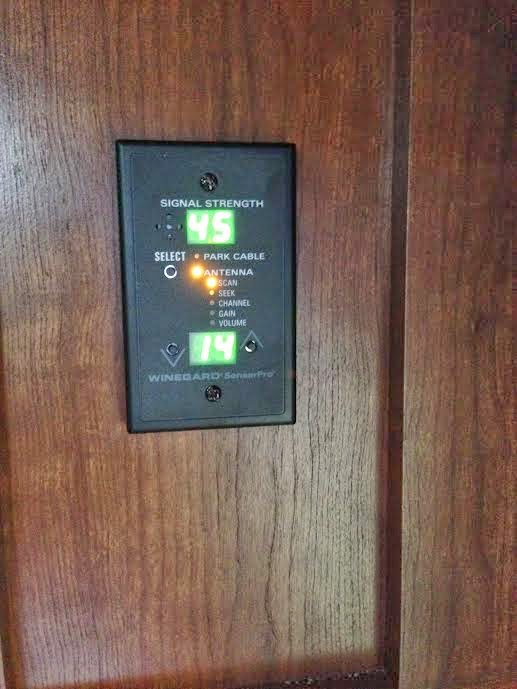 Instead, I cut a new hole in the paneling right under the antenna crank. Then I removed the cables and 12 volt wires from the old outlet and pulled the them out the new opening.  I attached them to the SensarPro and added a short RG6 cable for the TV1. I ran that back out the old hole and used a plain TV outlet plate to replace the old amplifier. It looked like a total mess while I was working on it but, with everything buttoned back up, it is a very clean installation.
Our first campground reservations are made for the end of April so the RV season is about to begin.