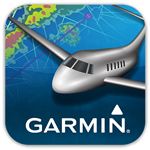 Garmin has fleshed out its Pilot MyCast app with more features and made the interface much more like the GTN portable and G5000 panel mount touchscreen products. The app is now called Garmin Pilot.
"The new design," said Garmin's Ben Kowalski, "follows through on our commitment to give our customers a consistent experience across Garmin's aviation lineup."
Flight planning and GPS navigation are included in the app while inflight XM weather is available with an optional third party receiver.
If you already use Garmin products, this app should feel very familiar right from the start.