Georgia and I only spent a couple full days at AirVenture this year but it was still another great trip. We got there on Sunday and took advantage of the pre-show day to trade our online tickets for wristbands and to get oriented without the big crowds. It gave us time to locate the exhibits we most wanted to see, get close to some of the aircraft that were sure to draw big groups later and buy a couple T-shirts.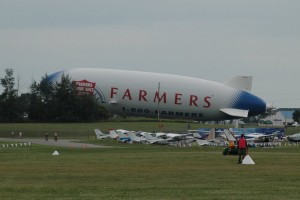 After lunch, we went over to the flight line to watch some of the arrivals then on to the hotel to get checked in. The Super 8 is right next to the North 40 airplane camping area which was still only about half full. The picture of the Farmers Insurance Zepplin was taken from the back lawn of the hotel where there is a gate in the airport fence. The North 40 shuttle bus stops there and I took advantage of it later in the trip. I hung out by the fence for a while that first evening before we went across the parking lot to Friar Tuck's for dinner.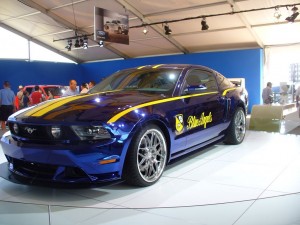 Monday was a perfect weather day. Blue skies and temperatures in the upper 70's. We got to the grounds early and started down the rows of outdoor exhibits and tents. Georgia was collecting free baseball caps and ended up with a half dozen or so in the first hour. Our morning wasn't all airplanes though. We spent a while in the Ford tent looking at what is new in ground transportation. This one-of-a-kind Blue Angels Mustang, honoring 100 years of Naval Aviation, will be auctioned off at the end of the show to support Young Eagles.
Outside the Ford tent, the rest of the exhibit areas are all about aviation. With dozens of new airplanes lining the streets it is hard not to keep saying "I'll take one of those…and one of those…and maybe one of those too." Terrafugia was there with their first production model of the Transition. It looks like a fun aircraft/roadster but realistically isn't practical as a traveling aircraft. The AOPA Crossover Classic, on the other hand, would be an excellent cross country machine. I wouldn't mind winning that giveaway.
After lunch we went through the aisles of two of the four exhibit hangers. Each of these is so huge that it is probably impossible to see everything. I had picked out some booths that I really wanted to visit but I still had to stop at others that caught my eye. My only purchase was a BrightLine flight bag that had been on my wish list for a while. Not that I wasn't tempted to buy more stuff  at every turn though.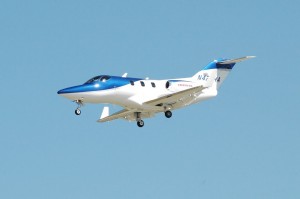 From the hangers, we walked over to the flightline and staked out a spot for our lawn chairs. The afternoon airshow was still an hour and a half away but this is Oshkosh and there is always something interesting coming and/or going on runway 18/36. We saw warbirds, vintage aircraft, homebuilts and new production models including a demo flight by the HondaJet.
The airshow itself was excellent, as it always is. The days performers included the AeroShell team, Matt Younkin's Twin Beech show, the Aerostars in their Yaks, Bob Carlton in a jet sailplane, Mike Goulian and his Extra, Dave Martin's Jungmeister, Kent Pietsche landing his Interstate Cadet on a camper, Greg Shelton  in a Wildcat, Gene Soucy and wingwalker Theresa Stokes, Skip Stewart in a Pitts, Team Chaos with a Skybolt, an MX-2 and the jet truck, and many warbirds in review.
By the end of the day we were both ready for an early dinnerand then some time to unwind before turning in.