August 23 – Helsinki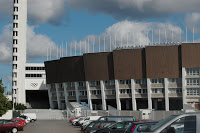 I was on our balcony as the Splendor sailed into the port of Helsinki. My first impression, as we passed pine and fir covered islands, was that it looked a lot like the south coast of Alaska. Indeed, Helsinki is a little further north than Juneau and the climate is similar. Because of their coastal locations, both cities have winter temperatures that are warmer than their latitude would suggest. Still, in a normal winter, the harbor is frozen. We saw some of the ice breakers that keep this, and other Finnish ports, open.
Our Helsinki City tour included the major landmarks like Senate Square with the Lutheran Cathedral, University and Senate buildings, Uspenski Cathedral, Parliament House, the National Museum, Kiasma Contemporary Art museum, Sibelius Park, Temppeliaukio Rock Church, and the Olympic Stadium pictured in this post.
Back on the ship that night, we made our last forward clock change before going to sleep.
August 24 – Saint Petersburg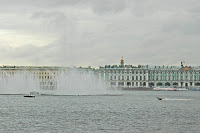 The highlight of this cruise has to be Saint Petersburg, Russia. The Splendor docked there overnight giving us two days and one evening to enjoy the city. Georgia and I had tours booked for both days and the first day's was a long 9.5 hour one.We got to sleep in though because we wouldn't be leaving the ship until 1PM.
This first day tour package included a sightseeing tour, Neva River cruise and evening folkloric presentation. Saint Petersburg is different than the other ports we visited. To go ashore here, you must be on a Carnival shore excursion, have proof that you are booked on a tour with a local Russian company or have a Russian visa. You can not just get off the ship and wander around on your own here. So, after lunch, we went down to the Spectacular lounge to wait for our tour to be called. Once the group was ready to go, we went down the gangway, presented our passports (and a photocopy of each) to Russian immigration and boarded the tour bus with our guide Natalia.
As we drove through the city, we saw some of the amazing architecture of Europe's fourth largest city. Many of the current museums and cultural buildings were once palaces build by the Czars. The biggest of these is the Hermitage which now occupies six buildings, the largest originally being the Winter palace. We made photo stops at Spit of Vasilievsky Island, Palace Square, St. Isaac's Cathederal and The Church of the Savior on the Spilled Blood. Leaving the bus, we boarded a boat for the river portion of our tour. As we enjoyed a glass of champagne, we got to see the city as founder Peter the Great meant it to be seen – from the water.
We left the boat and re-boarded the bus for the drive to a fine restaurant where we were treated to an excellent Russian dinner. Vodka and champagne, smoked salmon and caviar preceded a main course of stroganoff. It was very good and most welcome after an afternoon of touring.
Last on the agenda was a folkloric presentation at The Anichkov Palace, Concert Hall "Carnival". I admit that I didn't expect much from this part of the tour. Other folkloric shows I have seen have generally been pretty hokey. I was surprised then when this one turned out to be very good. We both thoroughly enjoyed the performance. The troop was skilled and energetic in their performance. More champagne was served during the intermission.
Finally, after our long afternoon and evening, we were dropped off at the pier just before 11PM. We headed right to bed because our tour in the morning would be an early departure.
August 25 – Saint Petersburg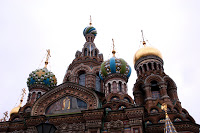 Today's tour was much shorter that the one yesterday. This one was only about three hours. We saw many of the same sights as the day before but, there were a few new ones included too. Besides, a different tour guide (Vitoria) gave us a little different perspective.
All in all, Saint Petersburg was fascinating. As our ship was making it's way toward the city, the TV news was filled with reports of the conflict between Russia and Georgia. Some passengers had expressed concern about going ashore in that political climate. I am happy to say that it was not a factor and, we were welcomed by our Russian hosts. I am very glad we got to see this city and experience a little of the Russian culture.
August 26 – Tallinn
Estonia has adapted remarkably well to capitalism considering that the country was part of the Soviet Union since immediately after World War II. New single family homes are being built at a rapid rate and home ownership seems to be a goal of most Estonians.
Our tour in Tallinn was only a brief overview. The most enlightening part of the day was the commentary of our guide. According to her, after centuries of occupation by Germany and Russia, the Estonian people are anxious to keep their new found independence. Unfortunately, they live in daily fear that their tiny country will again be swallowed up by Russia. From what we heard while we were there, that does seem to be a real concern for the near future. I hope they are successful in keeping their freedom.
Highlights of the tour included the sights of Old Town, St. Olav's Church, Forest Cemetery, Freedom Square, St. Bridget's Convent, and more. We made stops at the Olympic Yachting Complex, Kadriorg Park and Swan Park and The Song Festival grounds. It was a chance to see a city most of us in the United States know nothing about.
This was one of the shortest stops the ship would make. From here, we headed back down the length of the Baltic Sea toward the North Sea and Amsterdam.