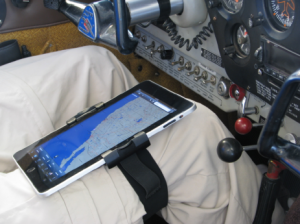 Tiet is a new company based in Thousand Oaks, CA that has introduced a  product called MyClip Thigh to convert your iPad into a kneeboard. According to the company press release:


The MyClip Thigh is designed by a pilot, for pilots who want a safe and secure way to use the iPad and have their hands free to tend to the business of aviation. With clips that attach in either portrait or landscape mode, a comfortable faux suede leg strap conveniently positions the iPad on the thigh for easy one-handed use. Secured to the leg, users do not have to worry about their expensive tablet slipping to the floorboards or getting in the way of controls. When the flight is over, the MyClip Thigh is good looking enough to bring to the coffee shop to debrief the flight. 


It looks like a very elegant solution to the "slippery iPad" problem. I put in my order today and I will post a review once I have a chance to try it out.