Chicago to Vancouver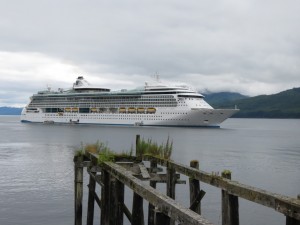 On July 19th, Georgia and I left home for our second cruisetour to Alaska. Our first one was in 2006 with Carnival Cruises. This time we took a longer trip with Royal Caribbean. I can tell you that Alaska is just as spectacular the second time around as it is the first.
We flew to Vancouver, British Columbia the day before the cruise and spent the night at the Hyatt Regency in the center of the city. We had dinner at the Cactus Club Cafe across the street from the hotel then got our luggage tagged for the ship.
The next morning, a motor coach from LandSea Tours and Adventures met us at the hotel. Our luggage was sent to the ship while we spent the morning and early afternoon touring the city. It was raining lightly as the tour started but dried out before the end.
Our tour started with historic downtown locations like Gastown, Robson Street and Chinatown. From there we went to Stanley Park with stops at the totem poles and Prospect Point.
Lunch was at Granville Island – the artistic colony in the city – and then on to the Lookout where a glass elevator carried us up to a 360 degree birds eye view of Vancouver and our cruise ship docked below. Next it was a short drive to Canada Place to meet our ship.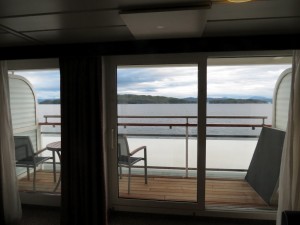 We quickly cleared customs and signed in with Royal Caribbean then we boarded the Radiance of the Seas to begin our voyage. We were pleasantly surprised at the size of our veranda cabin on deck 7.  It was an accessible cabin so a little larger than most and we enjoyed the extra room.
Vancouver to Ketchikan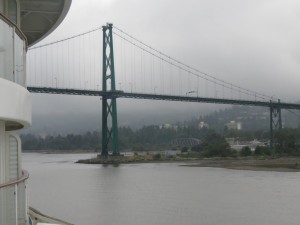 We just had time to watch from the balcony as our ship sailed under the Lion's Gate Bridge in a light fog before it was time to go to the Cascades dining room for our first dinner on board.
We had elected My Time Dining for this cruise so we could eat at different times depending on our activities for the day. That also meant that we never knew who we might be seated with. This first night was at a large table with several other couples. On other nights, sometimes we would be seated be with people we had dined with before and sometimes with new couples.
Maybe we have just been lucky, maybe the cruise lines are very good at matching people or maybe it is just the nature of cruising but, on all our cruises, we have never been seated with anyone we didn't get along with very well. On this trip we again enjoyed the company of all our dinner companions.
Saturday was a day at sea cruising the Inside Passage. We spent the day watching the scenery from our balcony and exploring the ship. Georgia went to a scrap booking presentation while I took pictures around the vessel.
This was also the first formal dinner night in the dining room so we took some extra time getting ready and went down early to have formal portraits taken. We purchased a photo package that got us copies of every picture taken of us on the voyage so we wanted plenty of them.
After dinner, we took in part of the show in the Aurora Theater then turned in early in preparation for a big day in our Ketchikan, our first Alaskan port of call.
Ketchikan
Ketchikan was the only port of call where we had two shore excursions booked for the day. Our first was a wildlife cruise with West Rock Alaska Tours where we hoped to see bears. That didn't happen but it was an interesting tour anyway.
We started out cruising by several beaches looking for the bears but only found a couple deer. Since that wasn't working, the captain took us to some small islands that were full of seals and eagles. That made the cruise a success despite the lack of bears.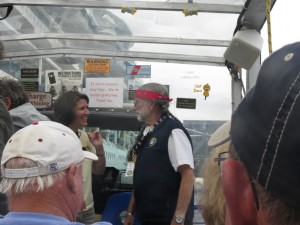 Lunch was at Annabelle's Restaurant which is an attraction on it's own.  Then it was on to our second excursion of the day – a duck tour of Ketchikan and it's harbor. Our driver Don and tour guide Renae did a very good job of showing us the town.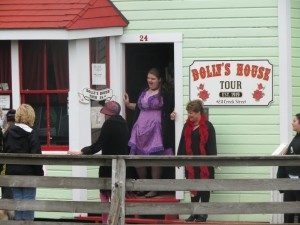 We saw the salmon stream and fish ladder, Creek Street where the bordellos used to be, the downtown area with it's long stairways to upper rows of hillside houses and, finally, the harbor from the water. Is was actually a better tour than we had expected and we were glad we went.
We still had time for a little shopping before we had to be back on the ship to sail to our next port of call.