Our grandson Max stays with us a couple days a week. It used to be easy to keep him entertained at home. Now that he is two and a half  though, he tends to get bored just playing with his toys. We have been finding places to take him that will hold his interest and allow him to learn a few things at the same time. Here are some recent favorites that we all enjoyed.
This very child friendly museum is just minutes away so it is easy to visit on rainy days. Most of the exhibits encourage children to touch, push, pull and play with them. Max loves it!
Right now they have a special exhibit called "Growing Up in Lake County" that let's kids see how life was in pioneer days. Max doesn't understand all of what they are teaching but he did like playing in the school house and cabin. He even met a couple new friends to pretend with.
This is one place we can go back to even when winter hits. I don't think Max will get bored with it for several years at least.
Here is a description from Wikipedia:
Lambs Farm is a non-profit organization in Libertyville, Illinois, that provides vocational and residential services for over 250 adults with developmental disabilities. Located on a 72-acre campus, Lambs Farm includes several family attractions, including a petting zoo, a pet shop, a miniature golf course, several small amusement rides, a restaurant, a thrift shop, a country store and a bakery. Lambs Farm community members work at these attractions, or at a nearby vocational center.
M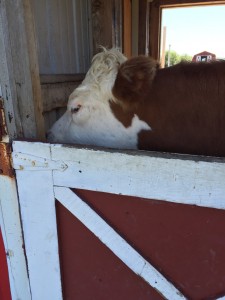 ax really enjoyed seeing the animals – except the cow. I don't think he realized just how big a cow is. When one put its head over a door right above him, it scared him. Once we got a little more distance from it he was fine.
Surprisingly he was fine with an even bigger horse. Probably because he saw it through the fence first and wasn't surprised by it.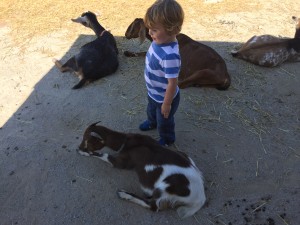 He really liked the pygmy goats though. We could go into their pen and interact with them. I had a hard time getting Max to leave. He also got to see donkeys, ponies, horses, sheep, chickens, turkeys, geese and more.
The carousal was another big hit and I'm sure the miniature train would have been but it was closed for repairs. That is something for next time.
Goebbert's is a whole lot more than just a pumpkin farm. It's an amusement park, zoo, playground, farmer's market, restaurant, fair and entertainment venue all rolled into one.
The Fall Festival started last weekend and we were there. Highlights for Max were the corn pit, his first pony ride, the pumpkin eating dinosaur (we had to back up a little though – it was a little scary up close), the train ride and exotic animals.
The corn pit, which is sort of a big sand box but with corn kernels, was one of your first stops. Max had a blast. The only problem was getting him to leave. We should have saved it for the end I think.
He was looking forward to the pony ride right up until I actually sat him in the saddle. Then he had second thoughts. I assured him I would walk beside him and he ended up really enjoying the ride.
We had lunch at the Farmer' Wife Cafe. That gave the adults a little break at least. It's hard keeping up with a toddler.
We watched videos of the pumpkin eating dinosaur the night before to prepare Max for what it would be like and he thought he really wanted to see it. The reality of that big head right next to him was too much though. Her had to back up a few feet so he could enjoy the show without worry of being eaten.
The exotic animal display surprised me with the number of animals they had. There were giraffes, monkeys, llamas, antelope, tiger cubs, a bear, camels, kangaroos, cranes,parrots and a lot more. They even had a bearcat which is something you don't see often. The zoo was Grandpa's favorite part of the visit.
Max loves trains and Goebbert's has an old one they acquired from an a closed amusement park in Wisconsin Dells. It has been fully restored and runs on a half mile of track. Max and Grandma took the trip together. He especially liked the "bone people."
There was more to do at the Pumpkin Patch than we could get to in one day so we will have to go back before the season ends.
---
So, where do we go next? It's going to be hard to top these adventures for a two year old!