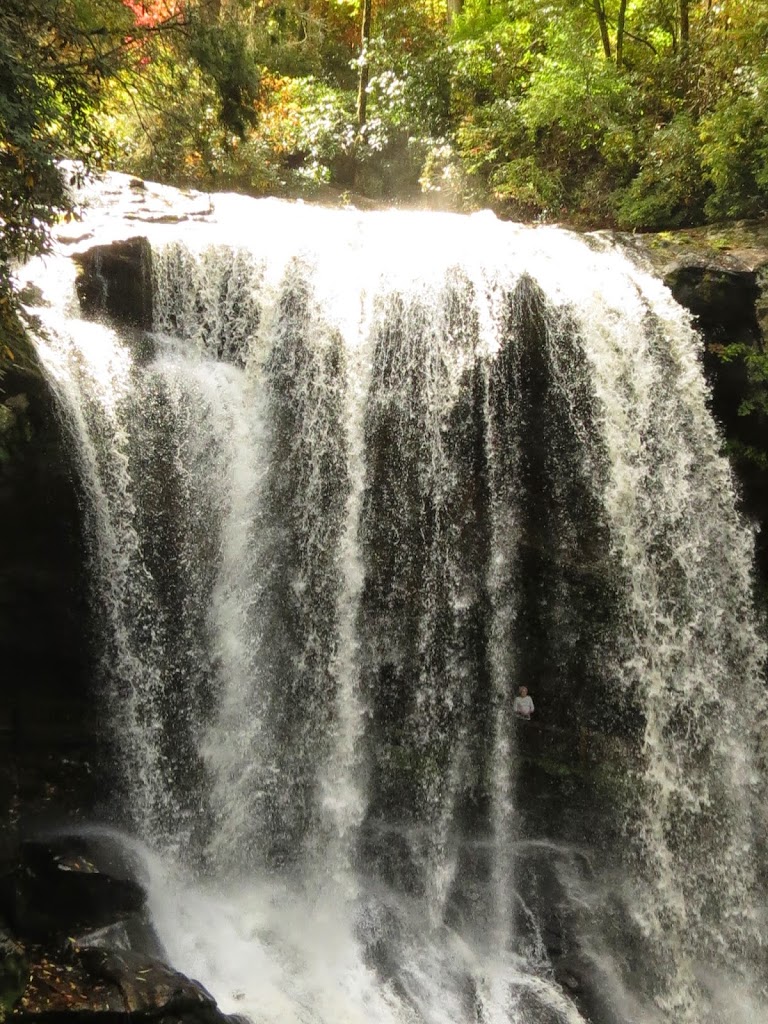 Wednesday was going to be a long day of driving with stops for shopping and sightseeing – especially waterfall viewing.
Our first stop was in Highlands, North Carolina for shopping in the downtown area. On the way into town we saw just how dangerous the mountain roads can be. A fireman directed us over into the left lane as we came to one of the sharp switchbacks.
As we came around the curve, we saw a car on it's top in the other lane. Judging by the damage, it had rolled over more than once before coming to rest. The road was dry and the weather good. The driver must have tried to take the curve too fast and flipped.
After a couple hours in the Highlands stores, we got back on the road toward Franklin, NC. On the way, we stopped for lunch at the Carolina Smokehouse in Cashiers. Carolina Barbecue is different than what we get in Chicago but it is still good.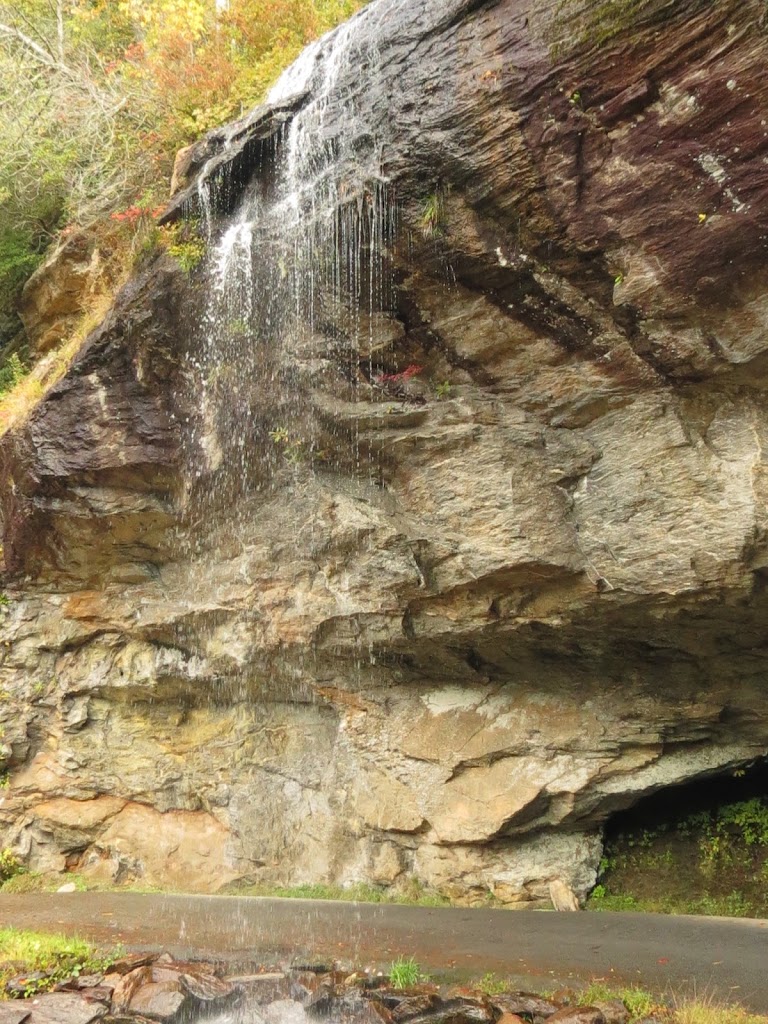 Then we went off in search of waterfalls. The small
Bridal Veil Falls was our first stop. It is right
beside the highway and even has a turnoff that goes behind it. We didn't drive back there but I was able walk behind it without even getting wet.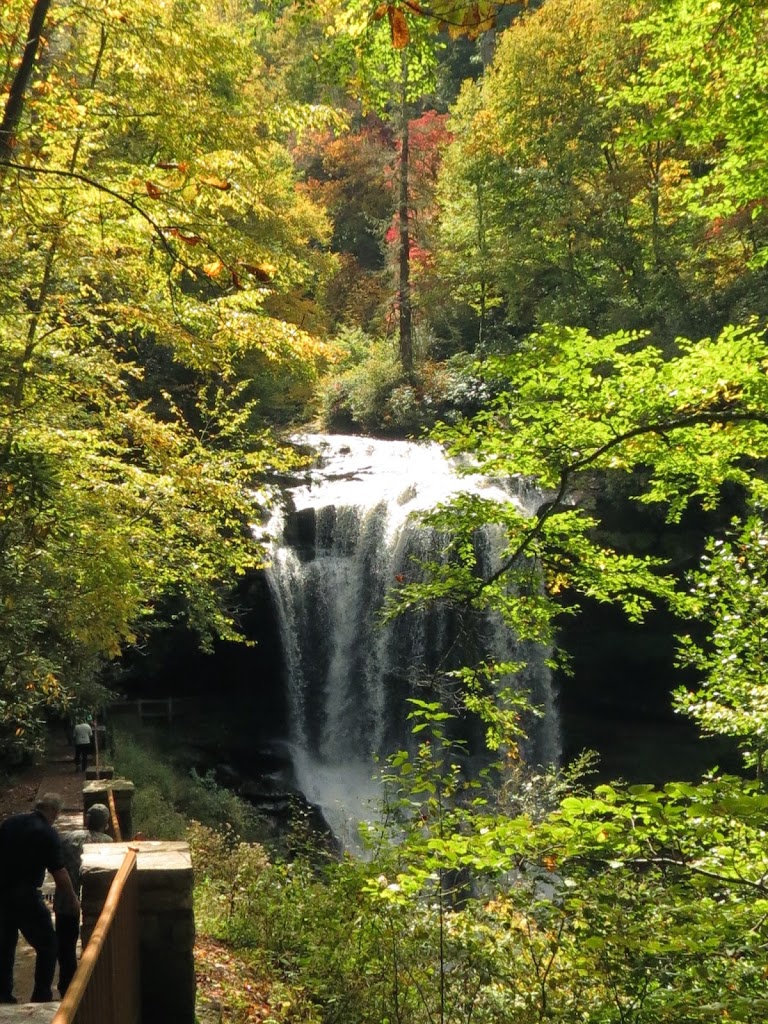 Our next stop was at Dry Falls. This one required a walk down a well maintained pathway to get to the bottom. Again, it is possible to walk behind the falls but you will get wet! Bonnie and I braved the damp to go back there. The water coming down is impressive up close.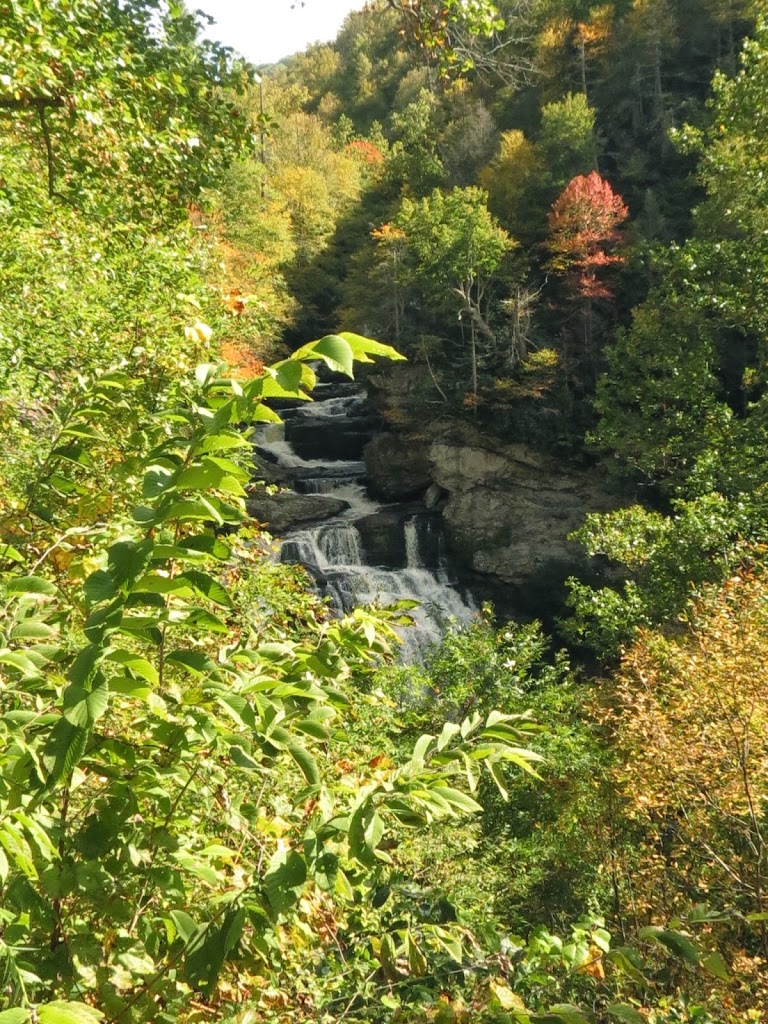 The last waterfall we visited was Cullasaja Falls. It doesn't
have a developed walkway so we just looked from above. It and the gorge it is in are beautiful.
From there we went on into Franklin for dinner then back to the cabin where we spend our last evening visiting on the porch and packing up for the trip home.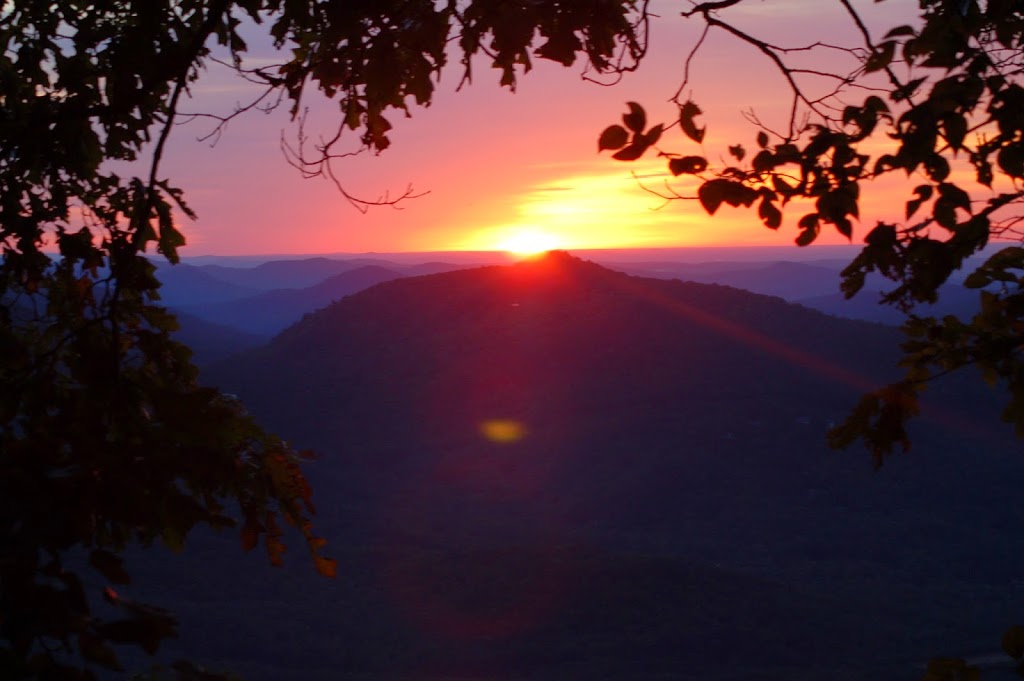 Thursday morning we woke up to our last sunrise over the Blue Ridge Mountains – for this trip. We had done most of our packing the night before so we set off on our separate ways early. Eddie and Bonnie were going home to South Carolina while Georgia and I still had a few more days of vacation. We would be spending the next two nights in Chattanooga.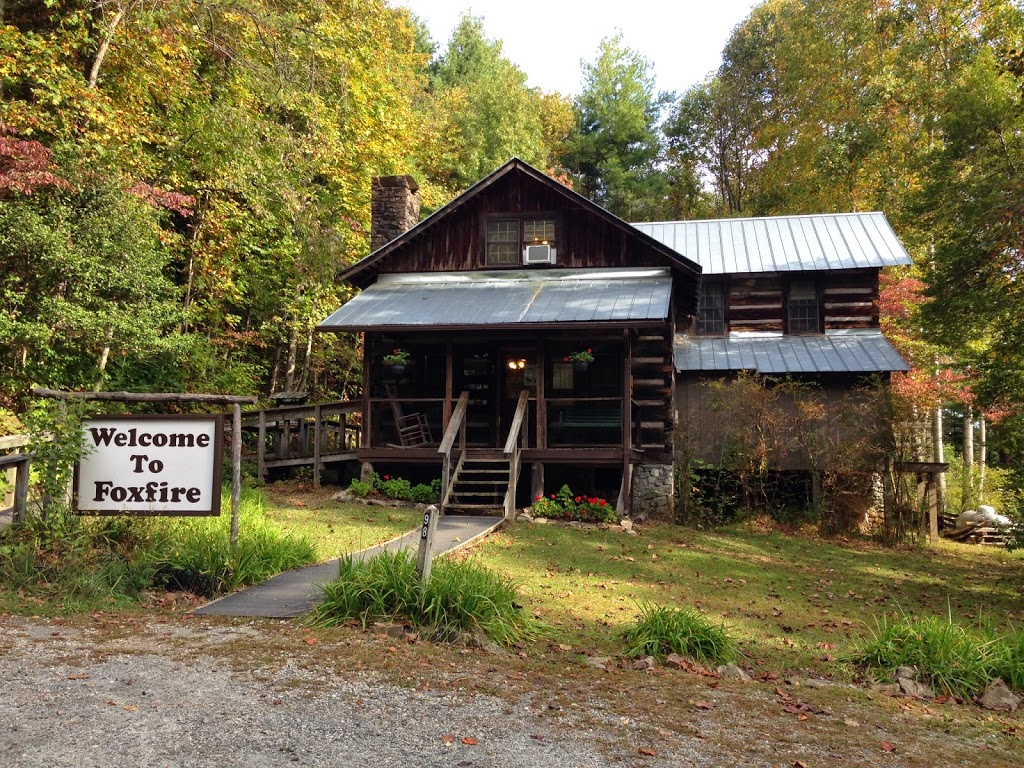 On the way down the mountain, we made a stop at the Foxfire Museum. Both of us have been fans of Foxfire for a long time (I bought Book 1 while I was still in college) but we had no idea the museum was right where we would be staying until we got there. It was a must stop for us and we bought a few of their products during our visit.
We made a couple more stops around Clayton (including a fabric store) then got on the road to Chattanooga late in the morning.
After a leisurely lunch stop, and more construction zones, we got to our Chattanooga hotel about 4 PM. We got checked in, unloaded the car and got the room organized before going out to dinner at the Texas Roadhouse that was only a block away.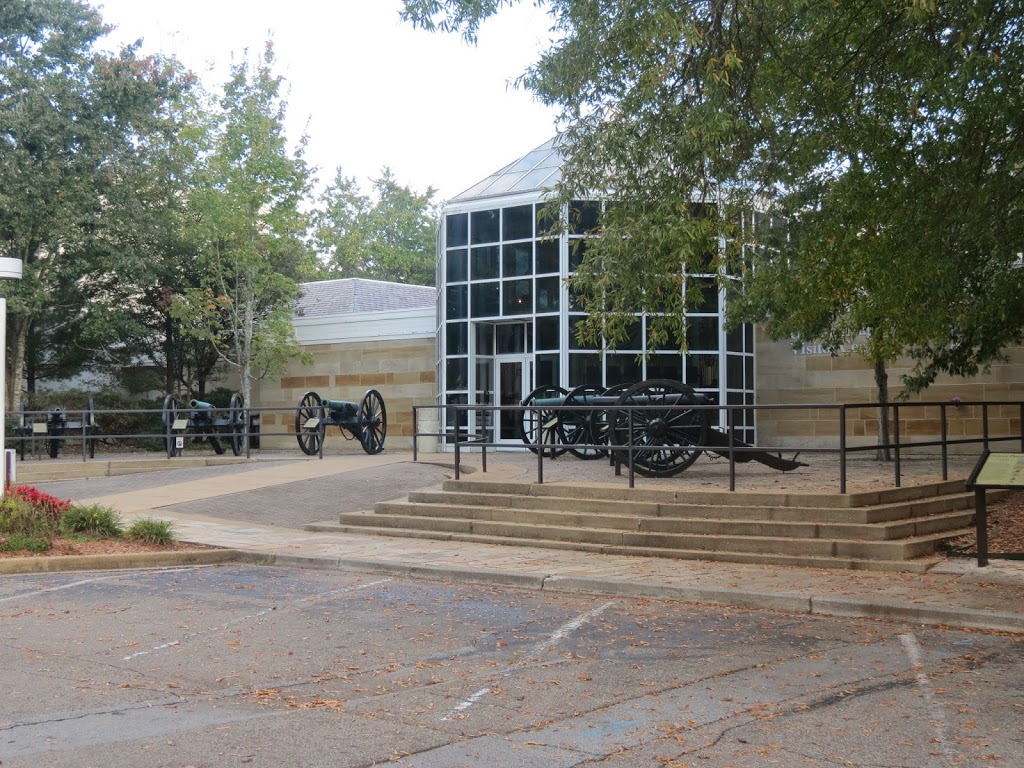 Friday morning started out bright and clear. We had talked a little about what we wanted to do but were leaving our options open. We had been to Chattanooga before and had visited most of the usual tourist attractions. We decided we would start with the Chickamauga and Chattanooga National Military Park since we hadn't gone there before.
We drove to the park and visited the museum but decided not to take any of the offered tours. Instead we would go up Lookout Mountain and revisit Rock City. From there we wanted to go downtown to ride the ducks. We have been on ducks in other paces so we wanted to add this Chattanooga tour.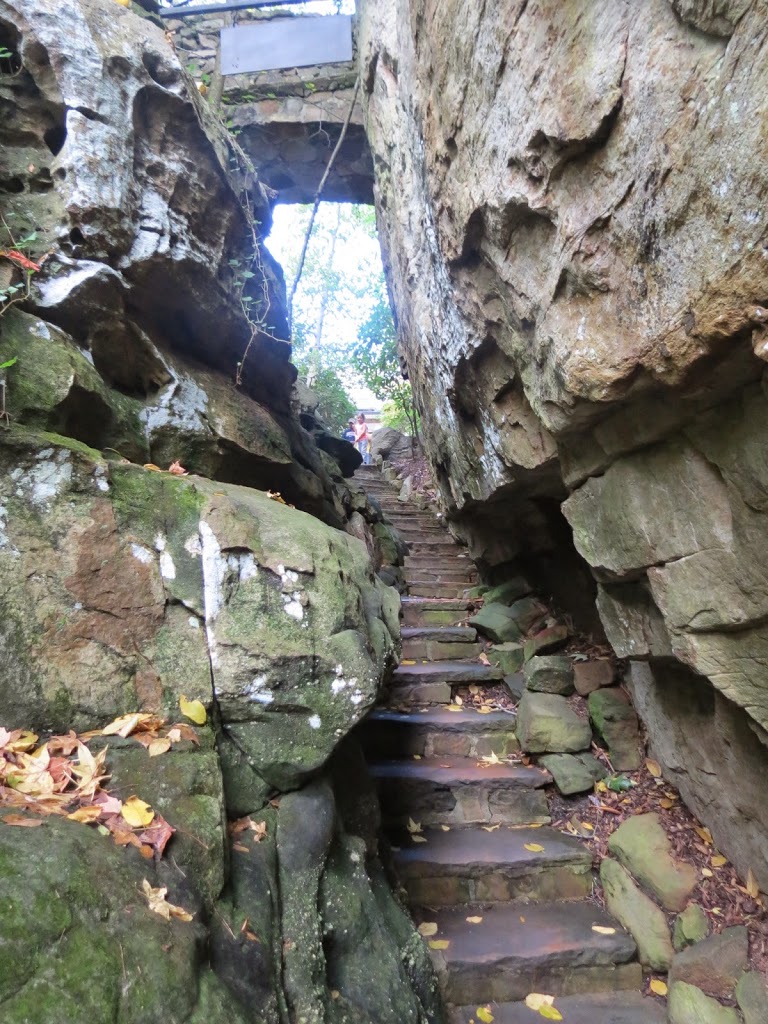 We got to Rock City just after the gates opened and followed the winding path through the rocky cliffs, through the Ogre's Tunnel, over the suspension bridge,  past Troll Valley and up to Lovers Leap.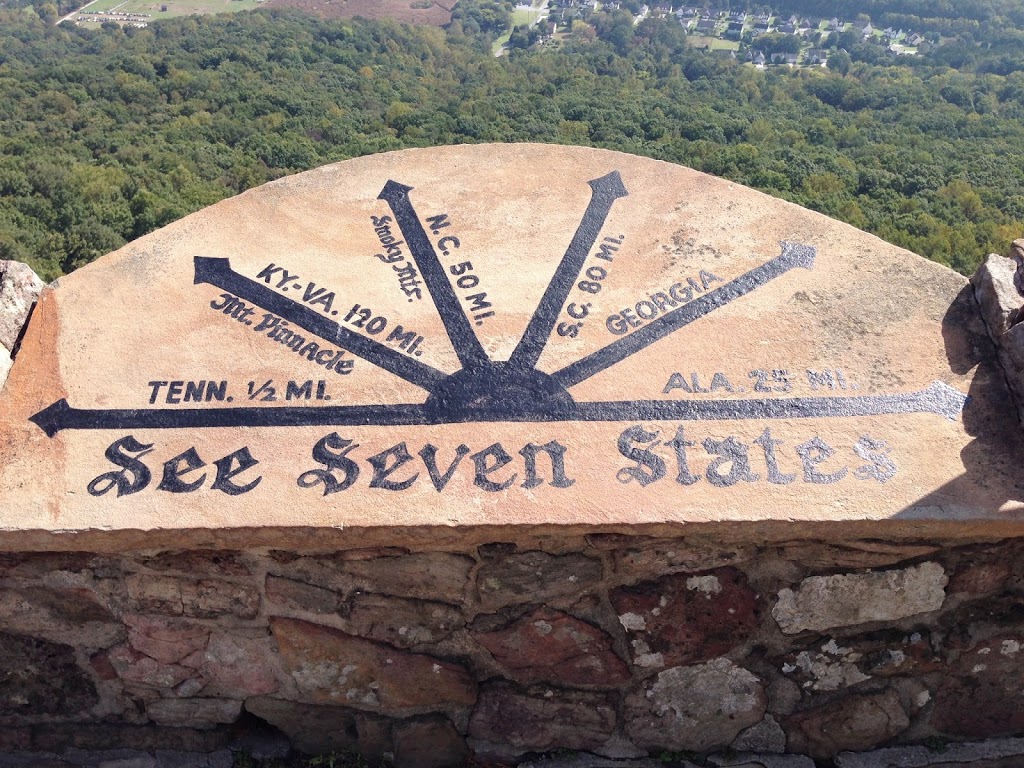 We had lunch at Cafe 7 and shopped at the gift shop. From this spot, you can see seven states on a clear day and the day we were there it looked like we could see all of them.
We skipped the second half of the walk through the rocks and took the shortcut to the parking lot. By the time we started back down the mountain, the sky was getting dark. We made a stop at the hotel before going to ride the ducks and, as we were getting ready to walk out again, the rain came down – hard. It was raining so much that we could barely see across the parking lot and it continued long enough that we gave up on the duck ride. Finally, when the rain let up a little, we went out to eat.
We left Chattanooga in a light rain on Saturday morning. We had a fairly long drive ahead since we wouldn't make our stop for the night until we got to central Indiana but, we decided to make a stop at Mammoth Cave along the way. As I drove, Georgia got online to find a cave tour. Unfortunately, they all seemed to be booked for the day. We decided to stop anyway and see if anything had opened up.
After a boring drive through more miles of construction, we got to the park and went into the visitors center.  The only open tour was not until 3:30 that afternoon and we just couldn't stay that long. We ended up having lunch at the Crystal Lake Coffee Shop then got back on the road.
We got to Edinburgh, Indiana late in the afternoon and checked into the Best Western. Then we drove the few miles to Indiana Grand Casino for dinner and a little gambling. We were both tired so we didn't stay very late but went back to the hotel for our last night on the road.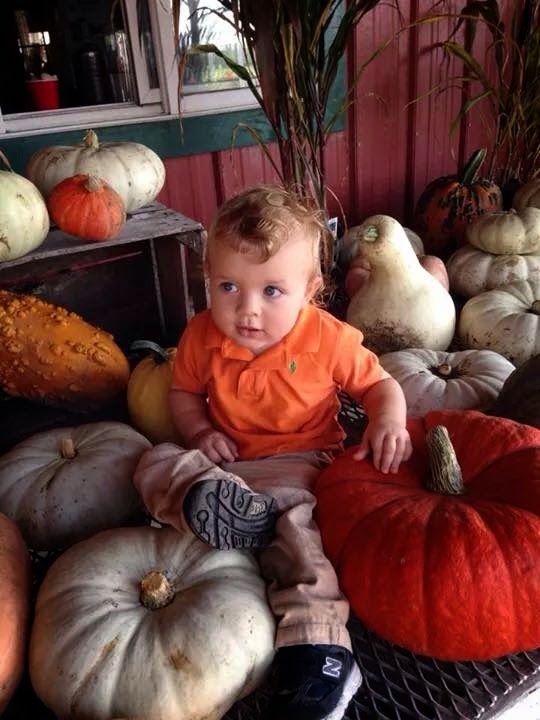 Sunday morning we took our time getting going since this would be a short driving day. We stopped in Chicago to pick up Max and took him home with us. We were tired but satisfied that it had been a good trip.