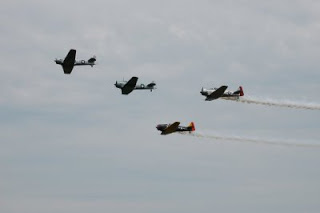 On Friday, Georgia and I were looking for a last minute weekend escape and decided to drive up to the Baraboo-Wisconsin Dells Airshow. We made a reservation at the Ho-Chunk Hotel, which is adjacent to the airport, for Friday night but they were booked up for Saturday. The Wisconsin Dells area has plenty of hotels though and we were able to get a room at the Baraboo Best Western just 3 miles from the airport.
We left right after I got home from work on Friday afternoon, stopped for dinner along the way and got to the hotel about 7:30PM. There was an evening airshow scheduled that day but, because we weren't sure just when we would arrive, we hadn't planned to go. That wasn't much of an issue though since we had a very good view from the hotel. I walked over toward the airport fence and got some video of the aircraft against the twilit sky. After the show, we moved inside to the casino to make a small monetary contribution to the Ho-Chunk nation.
We checked out of the hotel about 9:30 Saturday morning, got some breakfast and were at the airport by 11 o'clock. The airshow, in it's fourth year, is still small but well done. Several light sport aircraft were on static display along with a C-47 and P51 Mustang. The airshow line up included:
U.S. Air Force A-10 West Demo Team
U.S. Army 101 st Airborne C-23 Sherpa Dyess AFB C-130 HERCULES
C.A.F. Gary Wing Douglas C-47 "Black Sparrow" Warbird
North American P-51 Mustang "Gunfighter" Warbird
Screaming Rebels T-6 Texan Aerobatic Team
FLY HIGH Helicopters gave rides and flew a helicoptor demo
Mike Olah – Piper Pawnee banner tow
Michael Vaknin Extra 300
Steve Falon – Pitts S1S
Mike Niccum – Staudacher S-300D
Bob Davis – Sukhoi SU-29
Larry Schlasinger – Russian Yak 5
The C-130 had to scrub due to an engine problem enroute to the show and Bob Davis had to return to the ramp after taxiing out for takeoff because he had a mechanical problem. All those who did perform did a great job.
Rain interrupted the show just before the A-10 demo finale. Georgia and I had seen the A-10 the night before so we bailed rather than waiting out the rain storm. We checked into the hotel then got dinner at the Log Cabin Restaurant. Sunday morning, we slept in a little and made the drive home. Despite the brief rain on Saturday, it was a very pleasant way to spend the weekend and a nice little getaway.