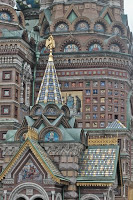 We are back home after our Baltic cruise. It was a trip to remember. Especially interesting was visiting countries that were, not so long ago, part of the Soviet Union.
I will write about the trip in more detail over the next few days. Right now, we are just spending the day unpacking and re-adjusting to this time zone. We were gone a long time and just need to unwind a little bit.
FYI, the picture on the left is of a section of The Church of Our Savior on the Spilled Blood in Saint Petersburg, Russia.