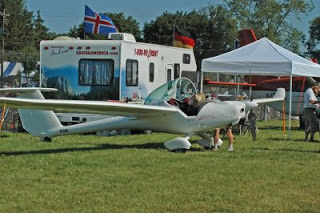 We checked out of the hotel early Wednesday but, made one last visit to AirVenture before driving back home. This morning, we went to the Affordable Flying Center for a forum on aircraft ownership. Presenter Mark Scott gave us some very good tips on how to own an airplane for less than the cost of renting. Is airplane ownership in our future?
While at the Affordable Flying Center, I took the time to look over the large selection of light sport aircraft located there. I already posted about the Icon A5 which is my favorite LSA from this years AirVenture but, a couple others also stood out for me.
The Urban Air Lambada motor glider looks like a very capable multipurpose aircraft. The glider specs are good with a 30:1 glide ratio and the airplane specs look fine too. This would be a fun weekend airplane. The other one that appeals to me is the Flight Design CTLS. I think this one would make a great trainer.
So, AirVenture 2008 is now over for Georgia and I. Now it is time to start planning for next year. We also have other adventures coming up soon including cruises to the Baltic and to Hawaii. And, I hope to be able to report on more flying in the not too distant future.