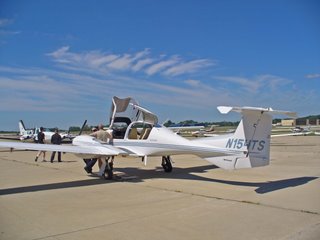 Saturday was open house day at Skill Aviation. Georgia and I got there about 11:30 which gave us time to look over the airplanes on the ramp and have lunch from the grills manned by some the schools CFIs. In addition to the current Skill fleet, there was a warbirds display featuring a T28, an L-39 and an F86 to inspect.
There are some exciting changes going on at Skill. They now have two Diamond DA-40 Diamond Stars and will soon be taking delivery of a DA-42 Twin Star. I look forward to getting checked out in the DA-40 after I get my private pilot certificate. Then, I know, I will want to get my multi-engine rating so I can fly the Twin Star.
Georgia's daughter Angeli and her husband Edwin came by a little later so I signed them up for a discovery flight. Sandy took them on their ride and, from all accounts, they had a great time. I'm not sure either of them is ready to start flight training yet but maybe someday.
It was a fun outing to the airport on a very nice day.